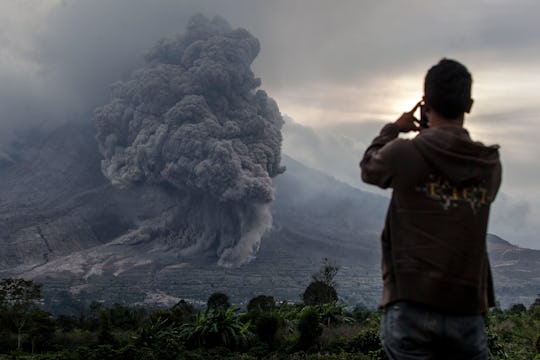 Ulet Ifansasti/Getty Images News/Getty Images
Indonesian Volcano Erupts, Killing Several People, & It's Happened Before
Before 2010, Indonesia's Mount Sinabung had been dormant for 400 years, but now it's considered a highly active volcano, encircled by a 2.5-mile danger zone. So when it erupted Saturday, killing several people, the situation was not new to officials in the country or people whose homes and farms are near its North Sumatra province location. Seven people — all working on their farms within the danger zone, in the village of Gembar — were killed, and two more are reportedly in critical condition. The most recent evidence of the disaster's destruction is manifesting in images of volcanic ash rolling over villages and dead animals lying on the ground near scorched homes, all devastating reminders of when the volcano erupted in both 2010 and 2014, killing two and 16 people, respectively.
Indonesian officials established the danger zone around the volcano after the catastrophic eruptions in early 2014. That October, nearly 5,000 residents were evacuated, CNN reported, but some of the displaced people nevertheless continue to visit the area in order to take care of their homes, property, and farms. At the time of Saturday's eruption, the public was not permitted to be in the area, and now the chance of subsequent eruptions remains high.
Mount Sinabung experiences frequent activity and often prompts evacuations from its surrounding areas. Before its deadly eruption in 2014, it had been spewing gas since September 2013, forcing 22,000 people into temporary camps. The volcano erupted again one day after authorities had allowed Indonesians to return to its slopes, The Independent reported, and among those dead were a 24-year-old college student, a local television journalist, and four high school students and their teacher who wanted to see the volcano up close. And in 2015, thousands of people living near Mount Sinabung had to leave their homes when the volcano began erupting violently.
Indonesia is located within the Pacific's "Ring of Fire", which makes it susceptible to seismic upheaval. Japan and Ecuador, which both experienced devastating, deadly earthquakes last month, are also prone to seismic disasters because of their positions along the Ring of Fire. In 2004, a massive tsunami triggered by an earthquake killed about 230,000 in a dozen countries, but most of the deaths were in Indonesia's Aceh province. There are 120 active volcanoes in Indonesia, and CNN reported in 2015 that 75 percent of people in Indonesia live within 62 miles of a volcano that has been active within the past century.
Now, the Indonesian Red Cross and other volunteer organizations are continuing the search for other victims of the latest eruption. The volcano is currently still spewing ash, which is detrimental to rescue operations, but on Sunday security personnel even had to block some villagers from returning to collect their abandoned belongings. With so many people displaced because of volcanic volatility and eruptions, Mount Sinabung is taking a toll on both lives and people's livelihoods, as they are evidently desperate in many cases to access their farms despite dire warnings of danger.