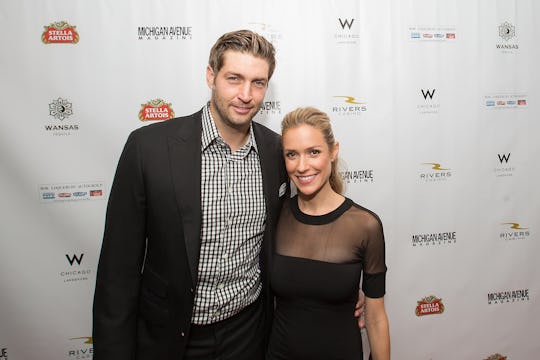 Jeff Schear/Getty Images Entertainment/Getty Images
Hey, Stop Fat-Shaming Kristin Cavallari's Husband
The world wide web is often a dark, vicious place, particularly when anyone with a wifi connection feels entitled to critique celebrities' bodies. So, when mean-spirited trolls on the internet fat-shamed Jay Cutler, Kristin Cavallari's husband and Chicago Bears quarterback, commenting that he looked both "flabby" and like a "lesbian," the onetime reality TV star wasted no time in coming to his defense. As the result of this latest installment (the unfortunate saga of online body-shaming of high-profile people — who are usually, but clearly not always, women) all of Cutler's fans and detractors know his wife still thinks he's "hot AF."
It was a photo of the couple looking tan and relaxed on a boat while vacationing in Mexico that ignited the vitriol aimed at Cutler. In the caption accompanying the photo, Cavallari wrote that he had she had just celebrated the best birthday of her life, "all thanks to this guy." After he threw her a surprise party with about 50 guests for her big 3-0, the pair jetted off to Mexico with some close friends. Thus, the huge smiles and the carefree ease between them in the Instagram photo. They look so happy and in love it was just too much for the meanies back home.
"WTF did he eat himself," one commenter wrote, according to People. "Who's the lesbian on the left?" another chimed in, referring to a tank top and shorts-clad Cutler.
Cutler himself doesn't use social media. And even if he did, it's unlikely that he'd been too torn up about the unwarranted and bizarre hate he'd inexplicably attracted from strangers. He's a "tough guy" both on and off the field, as his coach told ESPN in early December while discussing a shoulder injury that has sidelined him since Nov. 20. Still, Cavallari, who starred in the MTV reality show Laguna Beach as a teenager before becoming a shoe designer and mother of three young kids, does not mess around when it comes to anyone attacking her family. "When it's about my kids or my husband, I get really defensive," she told People last month. "And then I become a little fighter, and I've been known to get a little trigger-happy sometimes."
And that she did, quickly posting a photo Cutler she believed was more reflective of what he really looks like, and quoting some of her husband's haters, after the rude comments started pouring in. "... Since Jay looked like a 300lb lesbian in my last post, I felt I should do him justice by posting him looking hot AF in this one," she wrote alongside a photo of Cutler posing with hairstylist Scotty Cunha.
Of course, there's nothing wrong with being either fat or a lesbian, but Cutler is very clearly neither. And for the commenters to ridicule him for looking a little beefier than he normally does sends a dangerous message not just to Cutler but to anyone reading that inappropriate fat-shaming (to be clear, fat-shaming is never appropriate).
There are so many little, seemingly innocuous ways that adults and kids alike absorb negative messages about their bodies — and nit-picking photos of professional athletes for signs of deviation from the perceived ideal of thinness and fitness only worsens that problem.