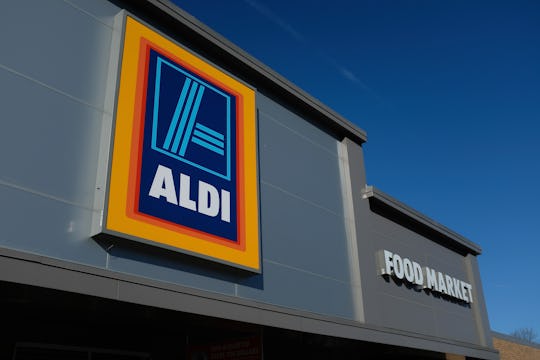 Sean Gallup/Getty Images News/Getty Images
Is ALDI Open On Christmas 2018? You Might Need To Change Your Dinner Plans
I have a confession to make. I like Christmas dinner more than Thanksgiving dinner, and I don't care who knows. Look, turkey is overrated; I much prefer "Roast Beast" as the Grinch calls it. Plus, Christmas is filled with deliciousness all day long — cinnamon rolls in the morning and gingerbread cookies throughout the afternoon — whereas you're kind of expected to fast all day on Thanksgiving, which is miserable. Christmas is clearly the superior food holiday, so I'm glad I get to finally start planning my Christmas dinner, which means I need to know if ALDI will be open on Christmas.
Unfortunately for procrastinators everywhere, ALDI will not be open on Christmas, so be sure to order that Roast Beast in advance. (Also check out this Roast Beast recipe from Random House because it's precious and looks delicious.) ALDI is one of many grocery chains that will be closed for Santa's arrival, according to the store website, but it will be open on Christmas Eve — with limited hours. Check your local store to find out exactly when it will close on the 24th, but getting everything you need by Christmas Eve morning is probably the best move you could make.
Looking up when your local ALDI will be open is also a good idea because their prices might be the best you can find this holiday (and all year round). The store's official mission is "to provide the highest quality products at the lowest possible prices" according to ALDI's website, and every part of the store follows through on that promise. The store rents its grocery carts to cut expenses, they don't offer plastic or paper bags so shoppers have to bring reusable bags (which saves money for them and and encourages you to conserve), and the stores themselves are smaller so nothing about the ALDI environment is grandiose. They're also doing major holiday savings all month long, so be sure to check their weekly ads to get the most out of your shopping.
One thing worth noting is that Christmas falls on a Tuesday this year, which might not seem particularly beneficial to anyone, but it means you can grocery shop over the weekend without worrying that any of your ingredients will go bad. It also means you could use the full weekend to your advantage to begin prepping your holiday feast (if you're not out at the mall buying last minute presents, that is).
Plus, middle of the week Christmas means you'll probably get an extra week and a half off for the holidays than you would if the holiday fell on a weekend or towards the end of the week. Think about it: You'll be off Monday and Tuesday for Christmas, followed by an awkward three days, then the weekend, and then New Years Eve and Day on Monday and Tuesday. My Christmas wish for you is that you'll get to take the whole week off, and if you can't, at least a 3-day work week is more digestible than a 5-day one.
ALDI might be closed for Christmas, but that doesn't mean you can't hit them up for all your holiday dinner needs in advance. Get your shop on over the pre-Christmas weekend, and thank me when you're sipping eggnog without a care in the world on Christmas Eve. PS peep the ALDI Fresh Right Now page to see what yumminess can fill your fridge today.
This first-time mom wants to have a home birth, but is she ready? Watch how a doula supports a military mom who's determined to have a home birth in Episode One of Romper's Doula Diaries, Season Two, below. Visit Bustle Digital Group's YouTube page for the next three episodes, launching every Monday starting November 26.