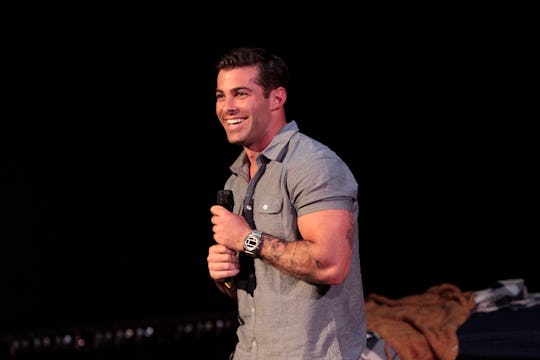 Rick Rowell/ABC
Is Alex From 'The Bachelorette' Single? Clues Say The Contestant Is Unattached
Alex Woytkiw was more than a little salty about having received an apparent "pity rose" during Week 5's Rose Ceremony on The Bachelorette – but will that attitude cost him a spot in the Final Two? The most recent June 22 episode ended on a rather mixed note. There was drama, as JoJo spontaneously dashed off mid-ceremony, overwhelmed with the feels and unable to send either of her bottom two (James Taylor and Alex) home that week. It was definitely not a reaction I was expecting him to have, and we'll have to wait until the next new episode to see whether he'll let that annoyance over the "pity rose" bleed over into his interactions with JoJo, causing her to give him the boot. In the meantime, I scoured his social media to see whether there were any hints that Bachelorette contestant Alex is single.
As with most still-in-the-running contestants on the series, there wasn't a clue to indicate that Alex is back on the market. Of course, contestants are discouraged from actively dating between filming and the air date of their final appearance, in order to preserve that spoiler-free aspect of the show – because obviously, if a contestant is clearly dating someone before we see him get the kiss-off from the Bachelorette, we'll know he's out of the running ahead of time.
On the other hand, it doesn't seem like Alex is in the general habit of sharing relationship details on his social media (unless he "scrubbed" said pictures from his account prior to appearing on the show). The majority of Alex's relatively sparse Instagram account is filled with adorable photos of his family, friends, and U.S. Marine buddies rather than photos of girlfriends – even dating back to the time before he appeared on The Bachelorette. But just because there are no photos of potential love matches on the 25-year-old's Instagram doesn't mean that there aren't a few special ladies in his life.
Alex appears to be super close to his sister-in-law Sarah, the wife of Alex's twin brother Adam. In one particularly adorable post, he even calls her his "left hand (wo)man."
Naturally, given that Sarah is married to Alex's twin, there was a bit of confusion among Alex's followers on Instagram. Apparently, there was enough wondering about whether Alex was actually married to warrant an entire post "clearing the air," with the Bachelorette contestant explaining that Sarah is married to his doppelgänger of a brother.
I can't really blame people for the confusion. Alex and Adam are very much identical, even in terms of their hair styles and body types. For now, though, they do have one notable difference between them – Adam is happily married, and Alex remains unattached. That is, unless Alex pulls off a masterful coup and runs away with JoJo's heart in the final weeks of The Bachelorette Season 12, winning over noted frontrunners Luke Pell and Jordan Rodgers.