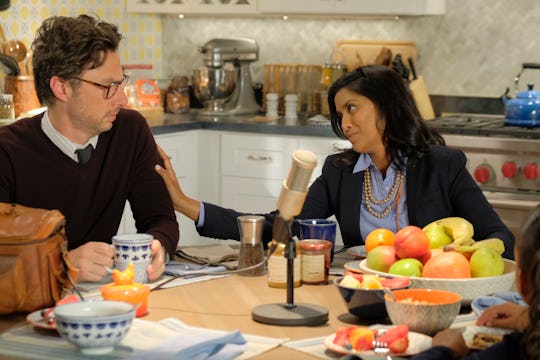 Tony Rivetti/ABC
ABC's New Comedy 'Alex, Inc.' Comes With A Very Interesting Backstory
With the sudden burst of popularity that podcasts have received in the past few years, I may have admittedly thought at one point that I could start one myself. I, too, would enjoy endorsing Blue Apron if it meant earning money by talking in my pajamas. With ABC's new comedy Alex, Inc., Alex Schuman's idea is to be able to create his own show too, but since it seems pretty realistic, is Alex, Inc. based on a real podcast? On the show, Alex quit his safe full-time radio executive job to be able to go off on his own to start a business.
While it might seem like the makings of a mid-life crisis set to the backdrop of a half hour comedy, it's actually based on the real life events of Gimlet Media CEO and co-founder Alex Blumberg. Although the show doesn't follow his life story to the letter and really only picks up where he left his job to start a podcast and a company of his own in 2004, it is loosely based on the events surrounding his career change. That being said, Alex, Inc. is based on a real podcast, even if the show does take some creative liberties in order to make it a fun family comedy as opposed to an actual biopic.
In real life, Blumberg's podcast he created upon leaving his previous job behind and starting Gimlet Media with Matt Lieber is called StartUp and is still one of the main shows being produced by their company today, along with many others, including a podcast for kids too. Since its launch in 2004, it has been downloaded "tens of millions of times," according to Gimlet Media's website. Since its initial development, the show has won the Gerald Loeb Award for Distinguished Business and Financial Journalism as well as the Gracie Award and Alex, Inc. was inspired by the podcast's first season. In a recent episode of StartUp, Blumberg went into detail about how and why he decided to start his own business and his own podcast, despite the danger and risk of starting your own company from the ground up.
"I decided to take what I learned reporting on other people's businesses and start my own business," he said in the StartUp episode. "I love podcasts. I love making them, I love listening to them. But there's all kinds of podcasts out there. From a couple people talking around a mic, to the kind that I make, and that I have a particular soft spot for, which focus on storytelling and journalism."
He went on to say that while those are the kinds of podcasts which take extra money to produce, they're also too useful and important to not try and raise money to make. "I kept waiting for someone to do that, and then came this thought," Blumberg said. "A thought that's gotten a lot of people into a lot of trouble. The thought — well, I could do that."
Where some might have gotten discouraged by some setbacks or the reality of it being not so easy to make this big idea a reality, he set out to make it happen and just four years later, he finds himself having a new ABC series starring Zach Braff and created by former Scrubs co-executive producer Matt Tarses being made about his journey. In Alex, Inc., Alex's story is pretty similar to Blumberg's, as is the beginning of his podcast and podcast company, so while the series may not always follow the real life story or podcast exactly, the inspiration did come from a very real place.
Check out Romper's new video series, Romper's Doula Diaries:
Watch full episodes of Romper's Doula Diaries on Facebook Watch.