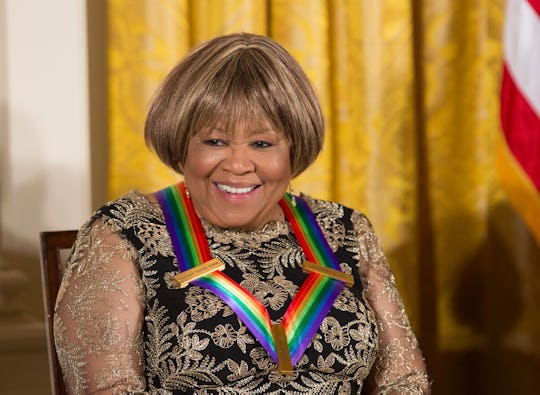 CHRIS KLEPONIS/AFP/Getty Images
"I Give You Power" Sounds Like A Trump Rebuke
On the eve of Donald Trump's swearing-in as the 45th president of the United States, the nation's progressives are feeling anxious about replacing President Obama, who worked to expand civil protections for vulnerable Americans, with a man who trashed Civil Rights icon Rep. John Lewis on Twitter just last week. As evidenced by the protests and marches scheduled for the inauguration weekend, people are mobilizing — and so are artists. Upon the release of the resistance anthem "I Give You Power" Thursday, it's all but certain that the new Arcade Fire and Mavis Staples' song is about Trump. After all, it's presented by a band with a notoriously anti-Trump (and Canadian) frontman and a soul legend who famously performed alongside Martin Luther King Jr. during the Civil Rights era.
Arcade Fire, an indie rock band, tapped the 77-year-old Staples to trade off fiery, not-exactly-subtle lyrics with vocalist Win Butler on the single, announcing that the money it earns will be donated to the American Civil Liberties Union, a nonpartisan nonprofit that experienced a huge spike in donations after Trump's unexpected November win. "I give you power, over me. I give you power, but I gotta be free," the two belt out over what MTV's Loren DiBlasi labeled an "assertive, menacing synth beat." "I give you power, I can take it away."
In a tweet linking to the music streaming service Tidal, where "I Give You Power" debuted, the band wrote that "it's never been more important that we stick together & take care of each other." Given that message, the timing of the release of the song to coincide with the inaugural concert featuring a slew of decidedly low-wattage musical acts, and Butler's unabashed and emphatic anti-Trump stance, all signs indicate that Arcade Fire and Staples are out to arm their listeners with a little more than a catchy beat.
At a New York music festival in July, right around the time Trump accepted his the Republican Party's nomination to run for the White House against Democrat Hillary Clinton, Butler unleashed an expletive-laced tirade against him onstage. "Donald Trump will f---ing never, ever be the President of the f---ing United States of America," he told the audience, according to Billboard. "There's no f---ing way, there's no f---ing chance." Just months later, he slammed candidate Trump as a "nightmare," a "clown," and a "joke" at a Montreal event, imploring Americans to vote for Clinton instead.
Likewise, Staples — who launched her prolific career as a teenager with her family's music group, the Staple Singers — seems unlikely to be politically aligned with a man who wears his racism on his sleeve and whose blatantly authoritarian tendencies are alarming his critics. She still sings "Why (Am I Treated So Bad)?," which her father wrote and is dedicated to the Little Rock Nine, the schoolchildren who were the first African Americans to attend an all-white Arkansas school, according to The Guardian. The closing track on her newest album is called "MLK Song," and a photo of herself with the Obama family, autographed by the president himself, hangs on the wall of her Chicago apartment, The New York Times reported.
Also, she's understandably disturbed by the police shootings of young black men, incidents that has prompted intensive Department of Justice probes of law enforcement agencies that Trump will likely end. "It's so sad," she told the Times. "Sometimes I feel like I'm living back in the 1960s. All of the marching, all of the freedom songs. It's so sad that it's not better. Let's wake up. Let's get over this."
So, it looks like participants in the countless upcoming inauguration protests around the country have found the soundtrack to their dissent.