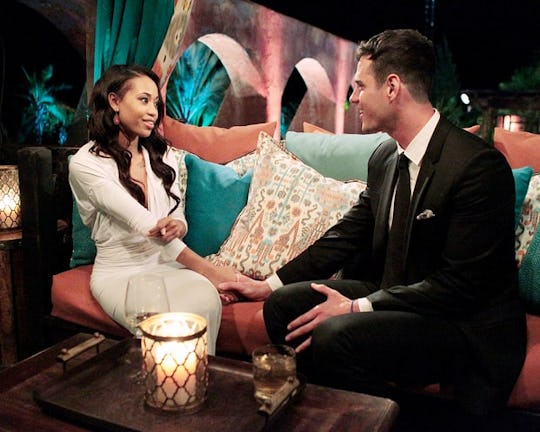 ABC/Rick Rowell
Is 'Bachelor's Jubilee Sharpe Single? She Hasn't Been Discouraged From Finding Love
From the amount she's talked about, you'd never guess that Julibee Sharpe only made it to week five of The Bachelor. Though Ben Higgins may have decided that he was more interested in JoJo and Lauren, we don't have to stop paying attention to the beautiful Army veteran with a heartbreaking past. Lots of fans have been pushing for her to be the next Bachelorette, but that begs an important question. Is The Bachelor's Jubilee single?
Jubilee is back in the spotlight after this week's "The Women Tell All" episode, where everyone besides the final two contestants dished on what happened behind the scenes of their time on the long-running ABC reality show. When talking to host Chris Harrison, Jubilee said that she believed she was "hard to love" and that Ben would never ultimately pick someone like her. Also this week, she opened up to People about losing her parents and brothers when she was a child in Haiti, and how she lived in an orphanage before being adopted.
During her time on The Bachelor, fans grew to love her for her sarcastic humor, her complicated realness, and her strength, but as one of the few black women on a show with much-discussed diversity problems, she was plagued by racially-charged microaggressions from the other contestants.
Surely it's time that the men of the world began appreciating Jubilee's awesomeness. But it looks like, through some Twitter sleuthing, she's yet to find the right one for her.
Back in February, not long after getting kicked off the show, she tweeted at country singer Lee Brice that she was single.
And since then, no mention of guys or pictures with any mysterious new gentlemen. On Valentine's Day, she posted a selfie with an encouraging message for all the single ladies (and dudes).
Over the past few weeks, it looks like she's been having lots of fun adventures, both normal ones like going to museums and attending a Panthers game with a female friend, and less-normal ones as a result of her newfound fame, like getting Twitter support from Amy Schumer. Not too shabby!
All in all, Jubilee seems to be doing just fine.
Fans will know soon if Jubilee be back on TV screens as the bachelorette in The Bachelorette. Whether she is or not, here's hoping she keeps on being her kick-ass self.