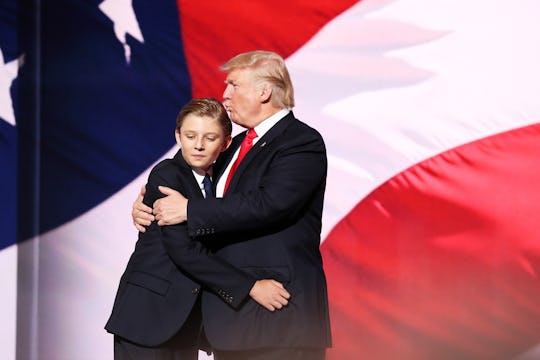 John Moore/Getty Images News/Getty Images
Is Barron Trump Happy To Be Staying In New York? His Parents Are Keeping Him Close To Home
This week, after much speculation, President-elect Donald Trump announced that his wife, Melania, and their 10-year-old son Barron would be keeping their residence in Trump Tower after Inauguration Day and well into the new year. According to Trump, he and his wife don't want to disrupt Barron's school year in New York City and relocate him in January, which is probably a good idea. Anyone who's had to relocate schools as a kid or deal with a big move knows, messing with a 10-year-old's routine can be tough on everyone involved. So is Barron happy to be staying in New York? No one really knows, since the youngest Trump doesn't have a social media account or speak to the press, obviously. But he's likely glad to not have to pack up his room.
Although his father's victory wasn't totally planned, Melania spoke to Us Weekly earlier this year and had already promised her son that he wouldn't have to "stress" about a big move to the executive mansion in D.C. She said, "I tell him: Take it day by day, enjoy your life, live your meaningful life as I like to do."
The future first lady continued, saying that she told Barron, "Everything is a new opportunity and it brings new friends and a new school. You never know, you never know what happens. Enjoy it day by day, live your life and don't stress yourself." That's pretty good mom advice.
Barron goes to a private elementary school on the Upper West Side of New York City and he still might have to pack up his toys and make a move come summer. Over the weekend, Trump said that his son and Melania would move into the White House as soon as the school year was over, but didn't specify any plans to put Barron into full time school in D.C. come September 2017.
The family is obviously being pretty protective of their youngest's privacy. Trump transition team spokesman Jason Miller said in a statement to CNN over the weekend, "Like any parents they are concerned about pulling their 10-year-old son out of school in the middle of the year. We would also appreciate the same privacy and security considerations given to previous First Families with regard to minor children be extended to the Trumps as well."
No matter how one feels about the election results, it does make sense for Trump to put his son's needs first. And for all the jabs she takes, Melania is a true stay-at-home mom (albeit one with a private plane and a penthouse in Trump Tower at her disposal). Barron has an entire floor to play around in and Melania said that she likes his making a mess of things, so it's good that the president-elect's son will get to do his thing, in his own place. Hey, no one likes to move, right?
A source close to the family told The New York Post this weekend, "Melania has not relied on nannies to raise the child and is frequently seen picking the fourth-grader up from his prep school, where tuition is north of $40,000." So the slow move to D.C. is really about taking all the precautions necessary to give Barron a semblance of "normal" life (whatever that means) as his father steps into his new role in the Oval Office.
Surely, Barron, like any young child would be, is thrilled to hold onto his normal routine, even though many of his New York City neighbors are concerned about what it means to keep the Trump family safe in their tower. Trump has also expressed a wish to spend just four days a week in D.C. and travel back to New York City whenever he can, even if it comes at the cost of heightened security around Trump Tower for four years, which the taxpayers of New York City would pay for, since the NYPD has had to up its game in helping the Secret Service secure not just one, but two home addresses for the president-elect.
For Barron, though, it's probably a safe bet that the 10-year-old is just happy not to have to make all new friends in the middle of a school year.