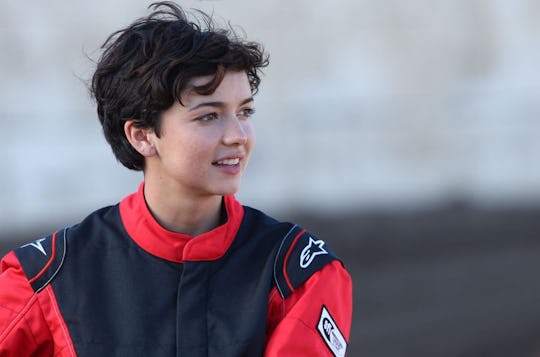 ABC
Is Bekah The Youngest 'Bachelor' Contestant Ever? You May Be Surprised
The Bachelor returned this Janu-Arie with puns galore (most of them more cringeworthy than that one) and a new crop of contestants vying for Arie Luyendyk Jr.'s heart. The former professional race car driver is something of a vintage Bachelor, returning to the show from way back in 2012, when he competed in Emily Maynard's season of The Bachelorette. He's 36 now, and on the older side for a Bachelor, with some pretty young contestants in the mix. Among them is a nanny named Bekah and fans are wondering: is Bekah the youngest Bachelor contestant ever?
She made waves before the season even began by declining to list her age in her contestant bio. Eagle-eyed Bachelorette alum Wells Adams immediately spotted this and joked that he was going to have to start carding on Bachelor in Paradise, where he fills in as the trusty bartender from time to time. (Of course, in reality, Bachelor contestants must be at least 21 years old to participate in the show, because, hello, so much alcohol.) In promos for the upcoming season, we see other women from Arie's season wonder if Bekah's age is going to be a deal breaker, since she seems to initially hide it from Arie too.
Of course, it doesn't take an advanced mathematics degree to do some Instagram snooping and figure out that Bekah just turned 22 when filming for The Bachelor started. She's the youngest contestant this season (even though there are a few 23-year-olds) and at one point in the promo, we see her crying, apparently over the fact that the women are constantly giving her a hard time about her age. Keep in mind that The Bachelor has been known to creatively edit teasers for ~drama~, so it's possible she's sobbing about something else entirely. But the package sure does make it look like she reaches a breaking point after constantly being gossiped about.
The thing is, although Bekah is the youngest contestant on Arie's season, she's not even the youngest Bachelor contestant ever to be selected. On Juan Pablo Galavis' train wreck of a season, contestant Cassandra Ferguson turned 22 during filming on the season's sixth episode. So she entered a 32-year-old Bachelor's contestant pool at just 21. And while there's a valid critique to be made about how producers never seem to cast female contestants who are as old or older than the male contestants pushing 40, it's definitely not fair to target the young women who are selected to be on the show.
Even though these age gaps seem significant, ideas about "maturity" and "life experience" are pretty relative. All that really matters is that both parties are upfront and in agreement about where they're at, where they want to be, and what they need to get there. And given the fairly low rate of success of Bachelor couplings in the long run, it's not like the show is resulting in tons and tons of May-December marriages that end in shambles. Singling out a 22-year-old woman and picking on her just because she's being cautious about revealing her age only justifies her reasoning for being cautious about revealing her age.
Bekah and Arie seem to have some genuinely steamy and/or romantic moments from the looks of the trailer and their chemistry is pretty obvious. Whether or not they're actually compatible in the real world is a fair question to ask, but judgements about her age don't really seem useful any more than judgements about women who choose to join the show as moms.
Check out Romper's new video series, Romper's Doula Diaries:
Watch full episodes of Romper's Doula Diaries on Facebook Watch.