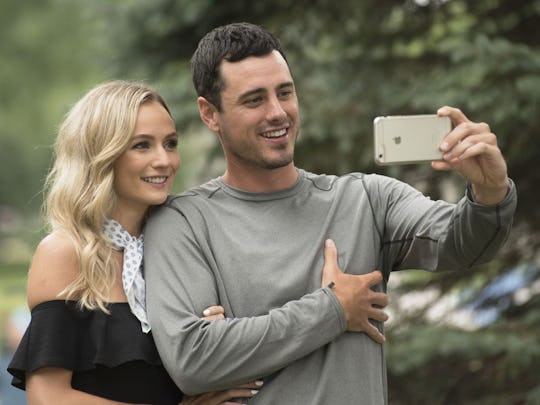 Melissa Jordan/Freeform
Is 'Ben & Lauren' Scripted? The Reality Series Follows Their Very Real Relationship
Despite many years on the air (and multiple spin-offs), The Bachelor isn't exactly known for producing long-lasting relationships. Throughout the franchise's nearly 17-year-long history, relatively few of the pairs left standing at the final rose ceremonies actually made it to the altar and remained together. As of yet, Ben Higgins, the star of The Bachelor 20, and his winner Lauren Bushnell have remained in the minority of couples who seem to be going the distance. In fact, their love is solid enough that they won their own spin-off show. But is Ben & Lauren scripted or unscripted?
The new series, which will be airing on Freeform, follows the lives of the reality TV couple post-Bachelor. It is a reality show and, as we've heard, it'll be following the couple as they settle into their beautiful Denver home together, plan for their wedding, and deal with the aftermath of what went down during their season of The Bachelor.
Lauren, in particular, understandably wasn't thrilled that her fiancé had said "I love you" to both her and his runner-up (and future Bachelorette star) JoJo Fletcher prior to choosing Lauren at the final rose ceremony. The cracks that issue caused in their relationship were highlighted in a sneak peek of the new series released by the network, when Lauren was hesitant to appear on JoJo's After The Final Rose special. Things are set to get a little more ~dramatic~ when the happy couple has a double date with JoJo and her Bachelorette Season 12 winner Jordan Rodgers, another event which the series is heavily advertising.
The press statement announcing the new show did state that Ben & Lauren: Happily Ever After? is an unscripted series, and Freeform confirmed this when Romper reached out for comment. Based on some of the recently announced "storylines" for upcoming episodes, it seems some familiar faces will be returning for a camping trip (looking at you Bachelorette 12 villain Chad Johnson).
In theory, reality shows are, in fact, based in reality. All reality shows are meant to be unscripted (or, at least, meant to be believed to be unscripted). But as we've learned from plenty of shows in the past, just because something claims to be reality that doesn't necessarily mean the events we're seeing on camera haven't been "massaged" a bit into a more dramatic form by producers. But, we should trust Ben and Lauren. They wouldn't hurt us in the same way.
Take, for example, the #1 example of this scripted reality phenomenon – The Hills.
The mid-aughts MTV reality show followed the lives of former Laguna Beach star Lauren Conrad and her friends, boyfriends, and friends' boyfriends as they lived in Los Angeles. The Hills was criticized repeatedly for appearing heavily scripted and manipulating events on-camera to "create" storylines. In the end, the infamous series finale even toyed with that, ending on the Hollywood hills backdrop lifting to "reveal" that the entire final scene was shot on a set.
In reality, many unscripted shows tend to exist on a spectrum, with some more manipulated to create a certain effect than others. Occasionally, nothing is actually manipulated – but in any case, producers do have to edit the existing "real" footage together, sometimes possibly distorting events and "creating" drama. Rarely is there an actual "script" that the subjects of an unscripted series are given to memorize and recite on-camera.
In any event, Lauren and Ben are committed to showing their fans their true selves through the new series and keeping it 100 percent real – even going so far as to show the two seeking relationship counseling on the series. As Ben said during a Good Morning America appearance, "I think one of the coolest parts about having the platform that we now have from the show is that we can stand up for things that we believe are right. And I think counseling is something that was taboo to most couples and most people in general."
Regardless of any viewers' doubts about the show's authenticity, you have to admit that the couple's stance on showing the often-unglamorous realities of a relationship (and that it's not taboo to seek help to improve said relationship) is definitely admirable.