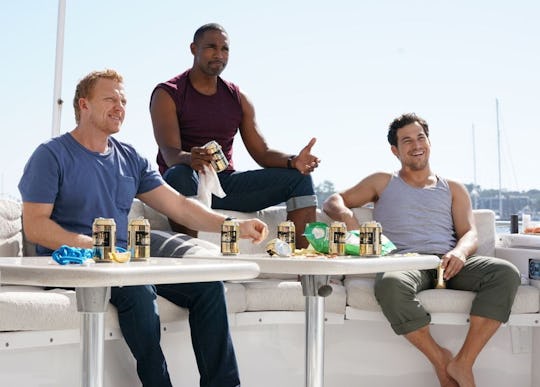 Mitch Haaseth/ABC
Ben Warren Is About To Make A Major Career Change On 'Grey's Anatomy'
For the most part, Bailey and Ben have had it pretty easy as a couple on Grey's Anatomy. Except for a few hiccups here and there, they've managed to be one of the more consistent couples on the show and neither have had to go through near death experiences to get there, so that's a big win. But now that it looks like he's looking for a life outside of Grey Sloan Memorial Hospital, is Ben Warren leaving Grey's Anatomy? He's about to make a career change and since that will take him away from the hospital he's worked at for the past several seasons, it could also take him out of the show, though I wouldn't call it a full-time exit.
As The Hollywood Reporter announced back in September, Jason George (who plays Ben) will be leaving Grey's Anatomy once Shonda Rhimes' newest firefighter series premieres. But the outlet also stated that George's transition to the new fast-paced drama about a group of firefighters, doesn't necessarily mean he'll be gone from Grey's Anatomy as a whole. In fact, since the shows are on the same network and under the guidance of the same geniuses who brought us all of the other Shondaland shows, Ben can still be on Grey's Anatomy in some capacity, though it will be more like a special cameo visit that takes place every once in a while.
In the promo for Thursday's episode "Come on Down to My Boat, Baby," Ben officially announces that he applied for firefighter training camp, though it looks like he has yet to relay the news to Bailey. When that time comes, it probably won't be easy for either of them, but Ben's career change doesn't necessarily mean he and Bailey will no longer be together. His absence from the show could easily be explained. (If he's off saving people in fires, he can't very well be hanging out in a hospital all the time.)
Back in September, George spoke to Bustle about the Grey's Anatomy firefighter spinoff and revealed that it will give his character a chance to really shine on his own. "My first thought was, 'Walk me through this,'" George said. "They gave me some ideas of what they were talking about creatively. It was a good challenge as an actor and stuff that I thought still stayed true to Ben. It's just the right amount of conflict between my character and costars. Everything they were talking about got my creative juices flowing."
The actor also spoke about what fans can expect from the new series once it airs, though an official premiere date hasn't yet been announced. "You'll see how they manage to make it through all the craziness they deal with in their day jobs," George revealed. "We've already established that Ben is a bit of an adrenaline junkie so that stuff appeals to him. And to me, for that matter. I'm a bit of an adrenaline junkie myself."
The fact that the new series is being referred to as a spinoff rather than simply another career-focused drama from Rhimes proves further than George's character will have the ability to straddle the lines of both series, even if his main focus is going to be the Grey's Anatomy firefighter spinoff. And after Rhomes' success with her other spinoff Private Practice, ABC executives seem to have plenty of faith in her in regards to this new series.
"No one can interweave the jeopardy firefighters face in the line of duty with the drama in their personal lives quite like Shonda, and Grey's signature Seattle setting is the perfect backdrop for this exciting spinoff," ABC entertainment president Channing Dungey said in a statement provided by The Hollywood Reporter. And in 2013, Rhimes told the outlet that she has a long list of ideas for more potential spinoffs of Grey's Anatomy, so Ben transitioning from Grey's Anatomy to the new firefighter series may just be the tip of the iceberg.
At the end of Season 13, Ben was the doctor who rushed into the hospital to save Stephanie from the burning section of the building that she was trapped in. That moment of heroism was meant to be a jumping off point for Ben's new career path. And now that he's confided in Jo about his plans, it's safe to say that his move from surgeon to firefighter is one he's passionate about. Sure, this means that Ben will be leaving Grey's Anatomy in some capacity, but it's not like he's joining a team of firefighters in an entirely different state or even city, so he'll definitely be close by if the hospital needs him.
Watch Romper's new video series, Romper's Doula Diaries:
Check out the entire Romper's Doula Diaries series and other videos on Facebook and the Bustle app across Apple TV, Roku, and Amazon Fire TV.