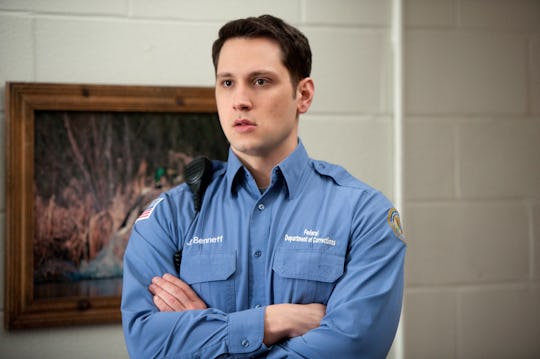 JoJo Whilden/Netflix
Is Bennett In Season 4 Of 'Orange Is The New Black'? Fans Miss Him
(Warning: This post contains spoilers from the entire fourth season of Orange Is the New Black.) One of the most heartbreaking storylines in Orange Is the New Black's third season was Bennett's abandonment of Daya and their baby-to-be, with zero explanation. The brutal ghosting occurred after Bennett met with Caesar, realized the truly messed up family dynamic Daya was coming from, and decided that he was not down with navigating how to raise an inmate-C.O. lovechild after all. So is Bennett in Season 4 of OITNB? Unfortunately, it seems as though his ship has sailed.
From a production standpoint, we know Matt McGorry had to leave OITNB because he snagged a series regular role on How To Get Away With Murder, which, like everything Shonda Rhimes touches, turned into a smash hit and became a Shondaland mainstay. With a regular role on a network drama, McGorry lost the flexibility necessary to continue his role on Orange.
He doesn't appear in Season 4, and in fact, the few times Daya's mom attempts to bring up Officer Bennett, Daya swiftly shuts down the conversation. She has no hope that he will return and is intent on continuing to plan and sort through her life without him. It's grim, for sure, and how closed down Daya is about the whole thing leaves a little something to be desired, emotionally. But her determination to do what's best for herself and her daughter trumps how hard the rest of us are shipping her and Bennett.
The door is, of course, still open for Bennett to return in Season 5. Even though we didn't hear from him in Season 4, he's not dead, so anything is possible. Plus, the final moments of Season 4 set up a potentially huge arc for Daya next season, with a lot of the focus on her character. As is common for this particular ensemble cast show, Daya flew a bit under the radar this year, in favor of fleshing out some other characters' storylines. But we leave Litchfield at the close of Season 4 in a full-blown prison uprising with rioting inmates and Daya pulling a gun on two C.O.s. Whatever happens next for her, it's going to be big, and it could invite a Bennett cameo next year.