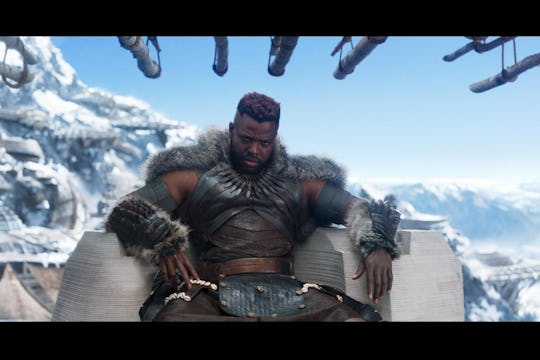 Marvel Studios
Is 'Black Panther' Appropriate For Kids Under 10? Here's What Parents Need To Know
As everyone with access to the internet or eyes knows, Marvel's latest superhero flick Black Panther is finally about to hit theaters on Friday. You might have heard the faint sounds of kids shrieking with excitement to go see it the first chance they get, because let's face it; even with all of the ways to watch a movie at home, nothing beats the movie theater. Especially when it's a superhero movie, with all of that action and excitement. But is Black Panther appropriate for kids under 10? Since it's so newly released, parents are going to want to do a little recon beforehand.
The movie has a rating of PG-13, for some prolonged scenes of violence as well as a brief rude gesture (since I am not a 10-year-old child, I'm very excited to find out what qualifies as a brief rude gesture in a movie). As with all things, nobody can decide for you whether or not your child should see a movie; some parents struggle more with action films because of the violence, while others are more comfortable.
But here is a solid rule of thumb: if your child is aware of who the character of T'Challa/Black Panther because they've seen other Marvel movies like Captain America: Civil War, they should be fine with seeing Black Panther. Especially considering Black Panther's pivotal role in the film.
If, however, they've not seen any of the other Marvel superhero movies like Iron Man, Thor, etc.... perhaps this isn't the movie for them. While Black Panther is already receiving plenty of positive critical reviews, already earning a whopping 97 percent on Rotten Tomatoes, the violent aspects might prove to be too frightening for smaller children, especially those under 10.
That being said, the excitement level among kids who are going to see the movie is hitting something of a fever pitch.
Black Panther is set to expand on the story behind T'Challa/Black Panther (played by Chadwick Boseman) as he heads back to his home country of Wakanda after the events of Captain America: Civil War. Black Panther comes up against two enemies who are determined to cause problems in his kingdom, and teams up with the all-female special forces group Dora Milage to prevent a world war. The movie also stars Lupita Nyong'o, Michael B. Jordan, Angela Bassett, and Forest Whittaker.
In the weeks leading up to the release of Black Panther, which many people have seen as a landmark movie for representation in superheros (who have historically been white men and every once in a while, a woman might be thrown into the mix), movements have been cropping up all over the internet to help children see it. The #BlackPantherChallenge, which was started by marketer and philanthropist Frederick Joseph, has raised more than $300,000 to send kids to see Black Panther, and the Harlem-based Joseph has encouraged other communities to start Go Fund Me pages to do the same, as he told The Mary Sue:
All children deserve to believe they can save the world, go on exciting adventures, or accomplish the impossible. I am grateful that all of you have answered the call and are taking action to help more kids watch their heroes on the big screen. Let's keep pushing forward. If you're a teacher, buy tickets for your entire classroom. If you're a coach, take your team. If you're a community leader, do some organizing and get the kids and parents in your community to the theater.
There are most certainly going to be parents out there who find Black Panther too violent and mature for their kids under 10, which is their right. But, if the hype surrounding this movie is any kind of gauge, I have a feeling there will be plenty of parents who are going to take their kids this weekend. It's all a matter of individual parenting styles, and up to each parent.
Fortunately, I'm a grownup lady. I'm definitely seeing it.
Check out Romper's new video series, Bearing The Motherload, where disagreeing parents from different sides of an issue sit down with a mediator and talk about how to support (and not judge) each other's parenting perspectives. New episodes air Mondays on Facebook.