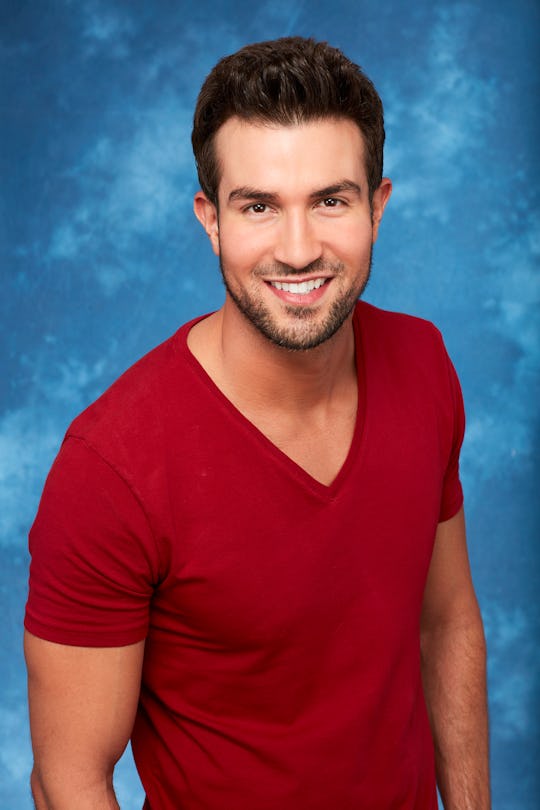 Craig Sjodin/ABC
Bryan's Age May Give Him An Advantage On 'The Bachelorette'
Bachelor Nation can be a little bit ageist. The female contestants, at least, have a noticeable tendency to be significant younger than their respective Bachelor suitor. A 2015 study found that the average age of female winners on The Bachelor was 25 (compared to a 31-year-old average Bachelor star age) and the average age of male winners on The Bachelorette was 28 (compared to an average 27-year-old Bachelorette star age). But Rachel Lindsay's Bachelorette season is shaking everything up and many are now wondering — is Bryan the oldest Bachelorette contestant ever? He could end up further proving how age is nothing more than a number.
Bryan Abasolo is a chiropractor, and at 37, he's the oldest contestant on Rachel's season of the show. In the Facebook Live contestant announcement video, Chris Harrison even referred to Bryan as "ancient" (at least in terms of the typically much-younger ages of Bachelorette contestants). While he's not the oldest contestant the series has ever had, he's certainly close. There are at least three contestants on other Bachelorette seasons who are a few years older.
The oldest one so far seems to be Matt, a 42-year-old gym owner who vied for Trista Rehn's heart on the show way back in Season 1 — for the one night he lasted, anyway. Brent Richter, who appeared on Emily Maynard's season of The Bachelorette, was 41 at the time he was a contestant on Season 8. Unfortunately, things didn't work out for Brent either — he was sent home on the first night too. Spero Stamboulis of DeAnna Pappas' season was also older than Bryan, at 38 years old during the time he appeared on the show. He, like Brent and Matt, was sent home during the first week as well. Are you sensing a pattern here?
Luckily, just based on preliminary teases from the show, it seems like Bryan just might break that pattern. He was named by host Chris Harrison as one of the five men to watch this season. Harrison described Bryan as "a very charming Colombian, Latin-lover type." (I'm already here for it.) At the very least, Harrison's teaser about Bryan seems to guarantee that he won't fall victim to the "old guy" first night send-off curse.
"He definitely catches Rachel's eye immediately out of the limo," Harrison told Yahoo TV. "He is good-looking, eloquent, professional, which are all attributes Rachel is immediately drawn to, so you will see a lot of Bryan." I think that's as much of a guarantee that he won't go home on the first night that I can imagine. Plus, Rachel is making history in more ways than one — she's not only the first black Bachelorette, but the oldest Bachelorette. I wouldn't be surprised if she's looking for an older man.