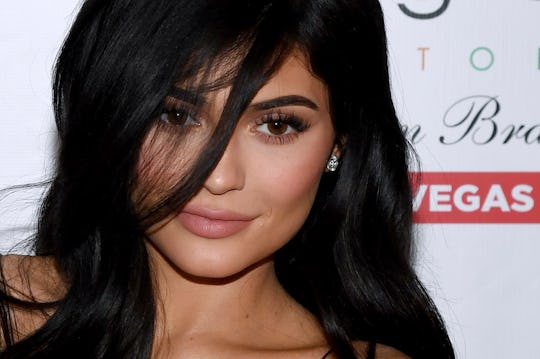 Ethan Miller/Getty Images Entertainment/Getty Images
Here's Why Fans Think "Butterfly" Could Still Be In Kylie's Daughter's Name
If there's one celebrity out there basically taking over the world at the moment, it's Kylie Jenner. Seriously, homegirl has kept it on the down low for months during her pregnancy before finally revealing it and that she had given birth. And so, now that she's also revealed her daughter's name, people are wondering: is Butterfly Stormi's middle name? There were certainly plenty of butterfly references in Kylie's announcement video, so it would make sense if she went with that specific middle name.
Now, there's a good chance you have no idea what I'm talking about, and that's totally OK. After all, a lot happened really fast. Before Super Bowl Sunday, the world still had no idea whether or not Kylie was even pregnant. After all, neither she nor anyone in her family ever confirmed the news, so it was all up in the air. But then, mere hours before the big game, Kylie took to Instagram to explain her silence, as well as share an 11-minute long video documenting her pregnancy, and even a little snippet of the birth of her daughter. After that, it seemed as though the storm of information had passed. That is until Kylie came back to Instagram Tuesday afternoon to share the first photo of her daughter, as well as reveal her name.
Yes, folks, Kylie Jenner named her first daughter, Stormi. And while people had a lot of thoughts about the moniker, there was one thing that just about everyone seemed to be confused about: what about the freaking butterflies?
In Kylie's announcement video, there was a pretty common theme other than, ya know, happiness and joy. And that theme was butterflies. There were a lot of butterfly images in the video, including butterfly jewelry, and plenty of butterfly decorations in her daughter's nursery. Fans are also aware that Jenner and boyfriend Travis Scott share matching butterfly tattoos, which clearly indicates that the winged creature is important to them. Seriously, after that video even I was convinced that Kylie was trying to tell her fans that the baby's name would be Butterfly.
But of course, being Kylie, she just had to toss that theory aside like it was nothing. On Tuesday, Kylie revealed her daughter's name to be Stormi, but with no middle or last name known as of yet, some fans are still convinced that Butterfly might not be out of the running.
Yeah, Some People Were Really Blindsided By Stormie
Obviously, nothing will be known for sure until Kylie herself says something, but it wouldn't be out of the ordinary to have Kylie give her daughter Butterfly, or something in the same vein, as a middle name. And honestly, the fan theories behind it are pretty spectacular. And the thing is, some fans still think it's a real possibility that Kylie will choose Butterfly as the middle name.
Some Fans Think It Would Be A Really Cool Middle Name
Other than Butterfly, another popular baby name theory Kylie fans had was Posie. Now, as several Twitter users have pointed out, Posie seemed like such a perfect name because it could be short for Mariposa, which is Spanish for butterfly. However, Posie is obviously not Kylie's daughter's first name (although it could definitely be the middle name), and, as some fans have acutely noted, Stormi could actually be a reference to butterflies as well.
Really, Stormi Could Be A Reference To Butterfly
Whatever the case, most fans were just thrilled that they finally got a little glimpse into Kylie's life after giving birth. After all, she's been (understandably) laying low since the news of her pregnancy was first announced. When (and if) Kylie ever decides to share Stormi's middle name is totally up to her. As she said in her first Instagram post announcing Stormi's arrival, "I understand you're used to me bringing you along on all my journeys. My pregnancy was one I chose not to do in front of the world."
Really, all that matters is that both Kylie and Stormi are happy and healthy. Congrats, Kylie!