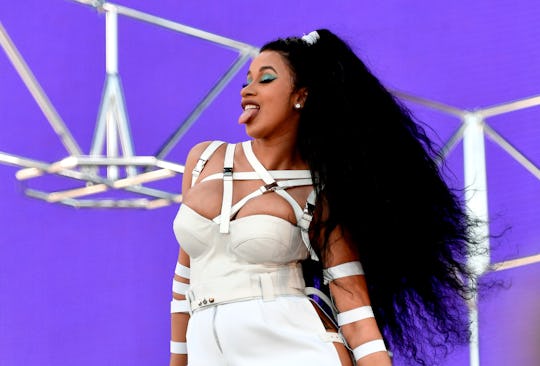 Frazer Harrison/Getty Images Entertainment/Getty Images
If You're Itching To See Cardi B, You Def Don't Want To Miss The 2018 MTV Video Music Awards
Award season is everyone's favorite time of the year and the MTV Video Music Awards are right around the corner. Everyone is looking forward to seeing their stars in the crowd, but not everyone's attendance is a given. Given just how incredible of a year it's been for her, it's fair to wonder if Cardi B is going to the MTV Video Music Awards this year.
It's only been a little over a month since Cardi B gave birth to her daughter, Kulture Kiara Cephus, on July 10, 2018. In typical Cardi B fashion, the rapper has been pretty honest about some of her struggles as a new mom. Most recently, she shared the first glimpse of her daughter in an Instagram video struggling to get her newborn to sleep — something every new mom can relate to.
In February 2018, after featuring Cardi B in "Finesse", Bruno Mars had announced new tour dates for his 24k Magic World Tour. Mars listed Cardi B as a special guest. Those tour dates start in September 2018, which means baby Kulture will only be 2 months old when the tour begins. Not long after Kulture was born, Cardi ended up dropping out of the tour and it likely has fans concerned about whether or not she'll appear at the MTV VMAs. But worry no more, because guess who's the opening act?
That's right. On Wednesday, the VMAs announced that Cardi B will be the opening act for the show. And Cardi's fans are definitely looking forward to it!
"queen of rap, it's over for the other girlie," one fan tweeted in response to MTV's announcement.
Another tweeted a gif of Cardi with, "ME ON MONDAY EXACTLY AT 8:00 WOOPPPPPPP".
In full celebration, one fan tweeted a gif of Cardi dancing in "Finesse", saying, "YESSS. Cardi just saved the show tbh. I'm so excited to watch now".
The VMAs will air on Monday, Aug. 20 from Radio City Music Hall in New York City, as outlined by Entertainment Tonight. The show will start at 9 p.m. ET / 6 p.m. PT on MTV, so anyone who wants to catch Cardi's performance needs to be on time.
Not only is Cardi B going to open the awards show but, as reported by Billboard, she is currently leading in nominations (along with The Carters). As of now, Cardi B has 10 nominations for the VMAs in the following categories: Video of the Year for "Finesse", Hip-Hop Video for "Bartier Cardi", Choreography for "Finesse", Best New Artist, Collaboration for "Dinero", Collaboration for "Finesse", Editing for "Finesse", and Best Artist of 2018.
You have to give it to Cardi B: that's definitely an impressive list of nominations. So, it's no surprise that she made the decision to come out for the night.
And although Cardi's cancellation of her part in Bruno Mars' tour had some fans concerned, there's no need to be. Cardi's main concern with the tour was leaving Kulture for a number of months, since it's not healthy to take such a young baby on tour. As she explained in her tweet, "Not only am I just not ready physically, I'm not ready to leave my baby behind..."
It's definitely still difficult to leave a baby even for just a night, as any new mom can attest. Hopefully, attending the VMAs won't be too much for Cardi and baby Kulture.
With all that said fans are definitely looking forward to seeing this new mom perform and, maybe, sweep up a bunch of new awards, too.