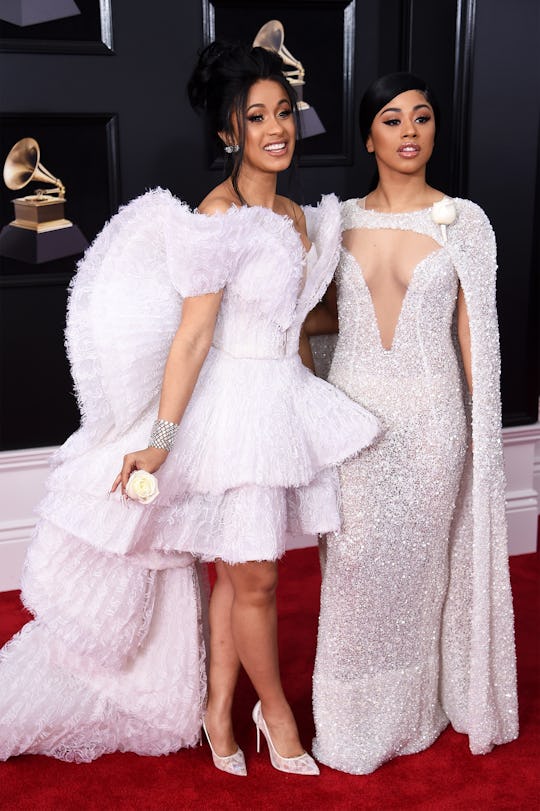 Dimitrios Kambouris/Getty Images Entertainment/Getty Images
Cardi B's Sister May Have Dropped A Major Hint About Her Baby's Sex
After months of speculation, Cardi B's appearance on Saturday Night Live this past weekend confirmed what fans had been hoping: she and fiancé Offset are indeed expecting their first child together. Though the excitement has just begun and there's a lot to keep fans pondering, people are undoubtedly wondering whether Cardi B is having a boy or a girl. Although the rapper has not confirmed her baby-to-be's sex, it looks like Cardi's sister might have accidentally dropped a major hint.
Hennessy Carolina, Cardi's younger sister, took to her Instagram account to share her well wishes in the wake of the epic reveal on SNL. However, some eagle-eyed fans realized that the caption appears to have been edited to remove a particular pronoun that was used at first, according to E! News.
As it reads now, Hennessy wrote on Instagram: "A baby is truly a blessing from god I know how much you always wanted to be a mom! You always been Like a second mom to me so I know u gonna be the best mommy everrrr. You took care of me like I was ur own daughter I know how much you LOVE babies. Growing up, you would always break me off a piece of your plate without me asking... to our little brother you give him whatever he imagines."
She went on to say in the same post how much she admires her sister, and how happy she is that she's going to be a mom:
Every time I use to see your adorable baby pictures, I use to wish I was older than you just so I would've gotten the chance to carry you and give you kisses when you were a baby because you were so cute and adorable! And NOW that ur baby is coming its like it's coming true! I'm going to be able to hold ur baby and give the baby all the kisses and hugs! Your pregnancy is mine, we pregnant can't believe we're having a baby! hehehehe and to my brother @offsetyrn @iamcardib Auntie hennny aowwwww."
However, as screenshots show, the original version of the caption said: "give her all the kisses and hugs," MSN reported. The fact that she seemingly edited it since has led fans to speculate that she may have said something she wasn't supposed to. The language, "You took care of me like I was ur own daughter" could be hinting at something as well, but it's ambiguous enough not to give anything away. Pronoun use, however? That's spilling some tea.
"Did anyone notice she edited the caption and took out the words 'daughter' and 'her' 😍 this is beautiful," one fan commented on the photo. Another chimed in, "DID ANYBODY NOTICE SHE SAID 'GIVE HER ALL THE KISSES.'"
Editor's Note: The Instagram post has since been deleted.
Though reports had been saying that Cardi B was expecting for a few months now, the Bronx rapper did give an explanation for why she had been keeping the news a secret. In a now-deleted Instagram story, E! News reported that she allegedly posted a message that read: "This is why I did not wanted to say nothing. People be so thirsty to scrutinize and try to destroy something that it supposed to be a blessing." She later took to Twitter to remind her haters that she's feeling more powerful than ever now that she's preparing to be a mom: "I started winning when the whole world was doubting on me! Think imma lose with my little baby counting on me?"
Offset also posted to Instagram to thank everyone for all of their support for him and Cardi. He proposed to her in October of last year, according to Cosmopolitan.
With all of the other negativity that the family is doing their best to avoid, Hennessy's seemingly accidental sex reveal really shouldn't be anything to speculate bad blood over. It is beyond clear to anyone reading that she had nothing but the best of intentions, and that she couldn't be happier for her sister. Mistakes happen, but when the whole world is watching your every move, they just get noticed a bit more.
Whether she is having a girl or whether it was just a random slip up, fans are still so excited to watch Cardi B's journey as a mother continue to unfold.
Check out Romper's new video series, Bearing The Motherload, where disagreeing parents from different sides of an issue sit down with a mediator and talk about how to support (and not judge) each other's parenting perspectives. New episodes air Mondays on Facebook.