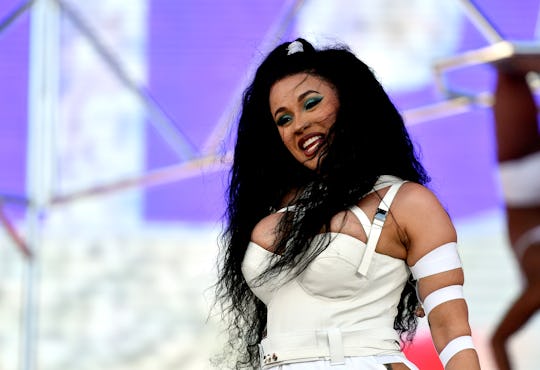 Frazer Harrison/Getty Images Entertainment/Getty Images
It's Official! Cardi B Will Take The Stage At The 2018 MTV VMAs — Here's When
Cardi B gave birth to baby Kulture a little more than a month ago — and she's already gearing up to hit the stage. The 2018 MTV Video Music Awards (VMAs) are right around the corner, and MTV has been rolling out impressive performer announcements over the past week. MTV's latest announcement? Get excited, because, yup, Cardi B will perform at the VMAs, marking her return to the stage after becoming a mother.
On Wednesday, the official VMAs Twitter account announced that Cardi B will take the stage on Monday, Aug. 20. "🚨WANNA PARTY WITH CARDI? 🚨" the account captioned a short commercial promoting Cardi's performance. "@iamcardib will open the #VMAs. You don't wanna miss this. August 20th at 9p on @MTV 🎉." You read that right — not only will Cardi be performing, but she'll also be opening the show. It's only fitting, considering she has 10 VMA nominations this year, according to Page Six.
Plus, given the fact that Cardi is a new mama and will undoubtedly be more tired than some of the other performers, I think an opening slot is perfect for her. This way, she can boogie off stage and straight to bed if she wants — or, it will give her enough time to take a nap before hitting the afterparties.
Cardi took to Instagram Wednesday afternoon to share the exciting news. She posted a screenshot of the VMAs' tweet, which she simply captioned, "See you there!"
The fact that Cardi agreed to such a high profile performance is definitely a good sign in terms of her postpartum recovery. In late July, Cardi announced that she had to pull out of Bruno Mars' tour, which is scheduled for this coming fall, because she needed more time to recover from giving birth. She posted a screenshot of a paragraph of text to her Instagram explaining her decision. She wrote:
As of today, I've decided I won't be joining Bruno on tour this Fall. I thought that after giving birth to my daughter that 6 weeks would be enough time for me to recover mentally and physically. I also thought that I'd be able to bring her with me on tour, but I think I underestimated this whole mommy thing. Not only am I just not ready physically, I'm not ready to leave my baby behind since the doctors explained it's not healthy for her to be on the road. I hope you guys understand that this decision has been the hardest to make but I have to do what's best for myself and my baby! Thank you Bruno for being so supportive and understanding.
Performing one song at the VMAs is certainly less of a commitment than embarking on a tour, but this is still a sign that Cardi is already feeling better than she was a few weeks ago and itching to get back into performing.
Not to mention, Cardi has been hard at work over the past few weeks, even though she has not performed for an audience since giving birth. On Tuesday, the rapper posted an Instagram video of herself singing to baby Kulture. (For the record, she sang a rendition of Drake's "In My Feelings" featuring Kulture-inspired lyrics, and it's pretty dang cute.) Alongside the clip, she wrote, "I really don't wanna go to the studio today 😩," which likely means she is currently recording music. Cardi seems sad to have to leave her baby girl, but at least that caption probably means more Cardi tunes are in the works.
In addition to Cardi B, other VMA performers will include Ariana Grande, Shawn Mendes, Panic! At The Disco, Travis Scott (perhaps Kylie Jenner will be in the audience?), and Nicki Minaj, Entertainment Tonight reported. The show will air on MTV on Monday, Aug. 20 at 9 p.m. ET/6 p.m. PT. Make sure to tune in on time, or you'll miss Cardi!