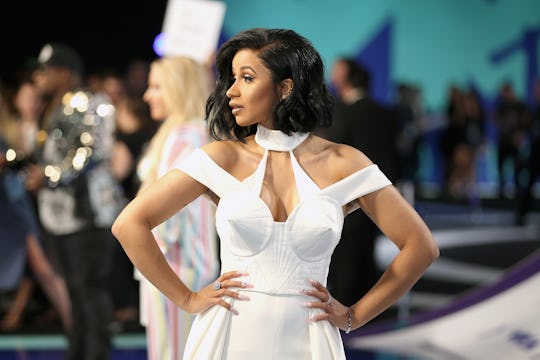 Phillip Faraone/Getty Images Entertainment/Getty Images
Cardi B Sang Her Own Adorable Version Of Drake's "In My Feelings" For Baby Kulture — VIDEO
Cardi B has plenty of her own songs to turn into lullabies for her baby daughter. But this week, she turned to one of fellow rapper Drake's tunes, called "In My Feelings." You know the one — over the past few months, it's become the subject of various hilarious (and sometimes dangerous) video memes floating around the internet. However, Cardi B's version of "In My Feelings" for baby Kulture Kiari Cephus just may be the best rendition yet.
On Tuesday, Cardi B posted what looked like an image of her tush, but was actually a sweet video of her leaning into her daughter's crib singing to her. Her updated lyrics of "In My Feelings" were: "Kulture, do you love me, I'm your mommy, I remember, when I had you, inside me, and I birthed ya, and I need ya, and I'm down for ya, like Kulture, do you love me?"
In case you're unfamiliar with the original chorus, it goes: "Kiki, do you love me? Are you riding? Say you'll never ever leave, from beside me, 'cause I want ya, and I need ya, and I'm down for you always," according to Genius.
After wrapping up her rendition, Cardi reached into Kulture's crib, smothered her with smooches, and then mumbled "I love you" and "do you love me?" over and over.
The video also gives viewers a look into Kulture's nursery. On the wall is a painting that reads, "Don't dream your life, live your dream." On one side of Kulture's frilly crib, there's a box of wipes, a purple flowery lamp, and a pink lava lamp (retro!!!). And on the other side of the crib, there's a pink fuzzy chair, with a sign leaning on it that reads, "Happy First 1 Month, Kulture."
Cardi B and her husband Offset welcomed Kulture on July 10, 2018. Even though Cardi hasn't released any photos of Kulture, she has shared plenty of tidbits about her baby girl. On several occasions, she has tweeted about how deeply she already loves her daughter. "I never felt this feeling before I'm In love and my heart feels like it's melting," Cardi tweeted last month. "Really hard to explain .Its beautiful how fast mother instinct kicks in ...never wanna leave my baby side."
She's also opened up about some of the less than glamorous moments of motherhood. "Kulture is not Kulture today she Kiari with the mood 😩But o maaann i love my sweet sweet baby ❤️She melts me like butter," Cardi tweeted a few weeks ago. Kiari both Kulture's middle name, and her father Offset's real first name. That's some simultaneous shade at your baby and your man, Cardi! Love it.
And last week, Cardi revealed that Kulture had picked up yet another nasty habit. "Minutes after my daughter was born she was sticking out her middle finger and she stay doing it now all the time 😩😂😩😂," Cardi tweeted. "She Soo disrespectful 😩wonder where she got it from ?🤔"
Here's a little background on why the song "In My Feelings" is so dang popular right now. The same day Drake released "In My Feelings" in June, a comedian named Shiggy filmed himself dancing to the song in the street, and he posted it to Instagram, according to Know Your Meme.
After a few days, a ton of other people started posting videos of themselves doing the dance, and the #KekeChallenge, aka the #InMyFeelings Challenge, went viral (and the song became ultra popular). Soon after that, people began randomly filming themselves doing the dance from cameras placed in moving cars as the dancer walked down the street, Know Your Meme explained.
Cardi's version of "In My Feelings" is definitely much safer for her baby girl than anything involving jumping out of a moving vehicle. Cardi, I'll take a Kulture-themed version of "I Like It" next, please.