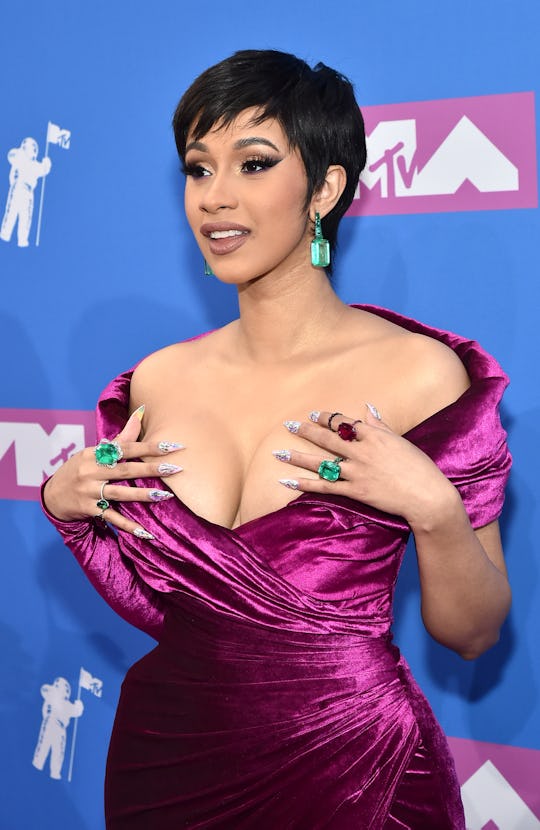 Mike Coppola/Getty Images Entertainment/Getty Images
Sorry Guys, Cardi B Attended The 2018 MTV Music Video Awards Without Baby Kulture
A lot has happened since Cardi B performed at the 2017 MTV Video Music Awards. Although she has celebrated so much in the past year, one of the biggest things was her giving birth to her first child, a daughter named Kulture, in July. With Cardi B set to open this year's show, it's fair to wonder if her daughter Kulture is at the 2018 MTV VMAs with her.
Though baby Kulture might not have made it on the red carpet with her mom on Monday, tonight was incredibly exciting for Cardi B and her legion of fans. In the month since Kulture's birth on July 10, Cardi B has taken a break from the public eye and has kept her daughter's face off of social media. In fact, Cardi B hasn't shared any photos of her daughter on social media or with any magazines, according to TMZ, because she wanted "privacy" and to spend her maternity leave soaking up every minute with her daughter, according to People.
As such, it's more than understandable that Cardi B's 2-month-old daughter — whom she shares with her husband, Offset — did not make her red carpet debut tonight, Monday, Aug. 20. But Cardi B definitely had some fun with all of the hype surrounding whether or not she'd be there with her baby girl when she opened the VMAs. At 9 p.m. sharp, Cardi hit the stage with a bundled pink blanket that people immediately assumed was holding baby Kulture. But seconds later, the new mom opened the blanket to reveal a moon man — not her baby girl.
It seemed unlikely, but there was reason to question whether baby Kulture would make an appearance, since VMA executive producer, Bruce Gilmer, told Us Weekly just three days before the award show that when it comes to Cardi B, anything can happen, like a possible surprise appearance from her daughter. Gilmer told Us Weekly:
Cardi is going to surprise everybody, and what she does will please the fans. We want to keep some mystery behind it.
That sounded a little vague. But there was no telling what this surprise would entail. Just hours before the VMAs were set to air, TMZ reported that Cardi B wouldn't be performing at the VMAs; instead, she would deliver a monologue or a skit — and Kulture wasn't going to accompany her mom to the show.
Although some fans might have been let down by Cardi B's creative MTV VMA opening, fans need to respect her decision to not perform so soon after giving birth. Just days after giving birth to Kulture, Cardi B announced that she had to drop out of performing on tour with Bruno Mars this fall because she had to tend to her daughter, according to People. "I think I underestimated this whole mommy thing," Cardi B said at the time.
That's why her return to the VMAs on Monday was so special. It's really hard to believe how much Cardi B's life has changed when she first performed her song "Bodak Yellow" on the red carpet of the 2017 VMAs.
In late October, just two months after that VMA performance, her then-boyfriend Offset proposed to her in front of thousands of people during a concert in Philadelphia, according to Vogue. However, fans didn't know that Cardi B and Offset had gotten married a month earlier in September, according to CNN (but the couple came clean with their secret in June). Just a few months later, in April, Cardi B confirmed that she was pregnant and expecting her first child with Offset that summer, according to Harper's Bazaar. And that same month Cardi B broke streaming records after her album, Invasion of Privacy, was released, according to Billboard.
Needless to say, her life has changed a lot since the last time she was in front of MTV cameras. But, fans have to respect the decisions she makes for her daughter, including not bringing her to the VMAs.