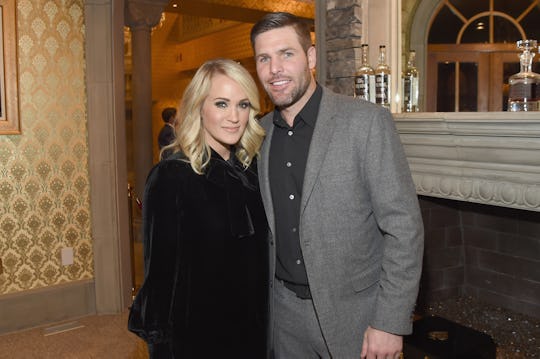 Rick Diamond/Getty Images Entertainment/Getty Images
Carrie Underwood Set The Record Straight About That Rumor Suggesting Baby No. 2 Is A Girl
Country singer extraordinaire Carrie Underwood announced her second pregnancy on Aug. 8 via an adorable Instagram post. And ever since the reveal, fans have overwhelmed Underwood with questions about the pregnancy, especially where it concerns the baby's sex. But if you want to know whether Carrie Underwood will deliver a baby boy or girl sometime in early 2019, there's a good chance you'll have to be patient. Underwood revealed on Monday that she and her husband, Mike Fisher, are in the dark about the baby's sex, and history suggests she'll keep the news under wraps for as long as possible. Either way, it's exciting to consider whether Underwood's 3-year-old son, Isaiah, will have a little sister or brother to dote on next year.
Shortly after Underwood made the big announcement about baby number two, she took to Instagram on Saturday to show off the first picture of her growing bump. "@ opry ❤️❤️❤️," Underwood captioned a gorgeous shot of herself and her visible bump in a sparkly dress. Talk about a glitzy bump reveal, right?
Of course, many fans were thrilled to catch a glimpse of Underwood's bump, and interest in her pregnancy has no signs of slowing down anytime soon. Case in point: Many fans have speculated Underwood is pregnant with a girl, a theory the singer herself has noticed.
"I don't know what it is," Underwood admitted to The Tennesseean on Monday in response to the baby girl speculation. "You've got a 50 percent chance you're correct. I have no idea."
Longtime fans of Underwood probably aren't surprised about her desire to keep the baby's sex a secret for now. After all, Underwood waited a while before she and Fisher found out the sex of their first child. "We got to see all the pictures and everything," Underwood recalled, according to the Daily Mail. "It was really cool to see that, but whenever she'd get near, near those parts we would look away."
Eventually, Underwood and Fisher asked their doctor to write the baby's sex on a piece of paper and place it inside an envelope. The two later opened the envelope during a romantic dinner, a moment they found fairly anticlimactic. As it turns out, Underwood and Fisher long suspected their first child would be a boy. "[It was] just the two of us in a nicer setting, but we both knew," Underwood recalled about the reveal, according to E! News. "So, that was just confirming our suspicions. We didn't really speak of it before, 'cause we were both just like, 'Whatever. It's all good.' But we knew it was a boy."
Although Underwood intended to keep baby number one's sex a secret, her friend and Country Music Awards co-host, Brad Paisley, spilled the beans during the show. After Underwood whispered the baby's sex in his ear, he went on to joke about naming it after country music star Garth Brooks. "We could name him Garth [Brooks]!" Paisley quipped, according to Billboard.
Following the incident, Underwood admitted she knew Paisley isn't great at keeping secrets. "Brad's got loose lips. He's a blabbermouth!" Underwood remarked, according to ABC News. "So, I was like, 'I'm not gonna tell you until we're ready for the rest of the world to know, 'cause I know you'll tell people."'
It's probably a safe bet Underwood won't tell Paisley the baby's sex this time around, at least not during an award show. It sounds like Underwood and Fisher want to keep this important piece of info quiet for now, which is completely understandable and OK. Underwood will tell fans the baby's sex when she's ready, and rest assured her supporters are anxiously awaiting that exciting moment.