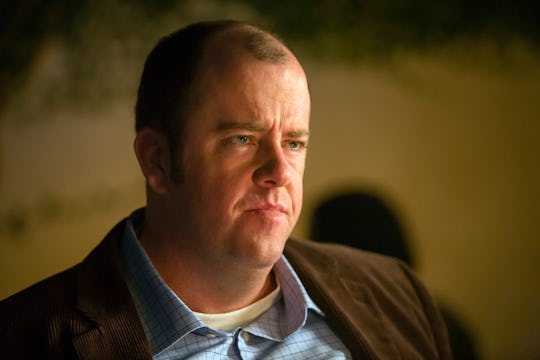 Ron Batzdorff/NBC
Is Chris Sullivan Leaving 'This Is Us'? Toby's Fate Was Left Up In The Air
Just when Kate and Toby were able to work out their issues on This Is Us and the entire family shared a legitimately good evening together for Christmas, Toby broke our hearts by collapsing onto the coffee table with what viewers can only assume was a heart attack. But does this mean that Chris Sullivan is leaving This Is Us? Toby's fate on the show was left up in the air at the end of the fall finale, with the telltale beeping of the hospital machines as he laid on the operating table.
My money is on a quick recovery once the show returns in January, but Sullivan wasn't giving too much away when he spoke to People. Instead, he started the #PrayForToby hashtag on Twitter. All he had to say about the fate of Toby was that, hopefully, he'll live through this. "He might be dead. We don't know," Sullivan said. And I think I speak for all This Is Us fans when I say that we are collectively praying for his safe and speedy recovery.
According to HollywoodLife.com, Mandy Moore was also pretty mum about where fans will see Toby when This Is Us returns. "Obviously, I am pulling for Toby," she said. "And I will say that the next episode there will be some sort of resolution." That's not much, but it's probably all fans are going to get for now.
While the stars of This Is Us have always said that they know little more than viewers do about what's going to happen before it does, IMDB does have Sullivan listed for a few episodes into 2017. In September, This Is Us was picked up for a total of 18 episodes for its first season and right now, Sullivan is all but confirmed for 13 of them. But even still, this doesn't necessarily mean that Toby survives his heart attack.
The remaining episodes that feature Toby could entail flashbacks of Kate with him or even some hospital scenes. At this point, it's still hard to tell. But the writers of This Is Us wouldn't bring Kate and Toby back together, just to have them torn apart like this, right? They would never do such a thing. Because Jack isn't sitting in an urn somewhere or anything. OK, let's not go to that dark place.
Right now, it looks like Sullivan isn't leaving This Is Us and that there is still some hope for Toby, even if it's drawn out for a few episodes when the show returns in January. Until then, keep that hashtag alive and maybe Toby will be too.