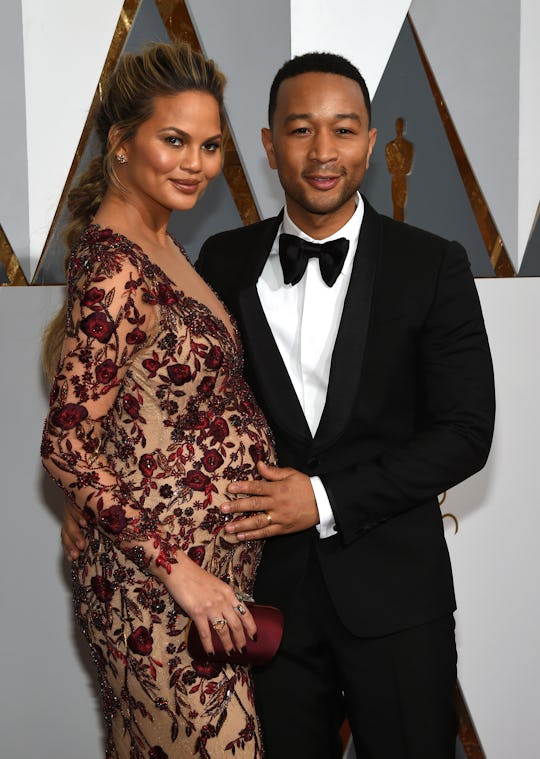 Ethan Miller/Getty Images Entertainment/Getty Images
Is Chrissy Teigen Past Her Due Date? It's A Bit Of A Mystery
She's talented, opinionated, and even has her very own cry-face meme. But even watching her life via her very active social media channels, it's still hard to tell if Chrissy Teigen is past her due date or not. And that's important, because we all want to know when baby Teigen-Legend will be gracing us with her presence.
The model, cookbook author, and legendary tweeter announced in October that she and husband John Legend were expecting their first child together, and she was already showing when she announced. Since then, she's been pretty open about her day to day life, but she hasn't gone completely Kim Kardashian about live-blogging her pregnancy. That's for a good reason, too. When she announced her good news on Instagram this fall, she made sure to remind her followers that it had been a long road to get where she was, having undergone IVF and all of the stress and waiting that comes along with that it.
Teigen is an avid Twitter user and it's mainly been through social media that her fans get to hear about her pregnancy. Entertainment Tonight hypothesized, given changes in her schedule, that Teigen is expecting in mid-April. The Lip Sync Battle star recently semi-confirmed as much too by tweeting about the crazy things mom-to-be do to induce pregnancy. Like, this one, just last week: ‌
When a woman starts tweeting about Chinese herbs and all of the things one thinks about doing to just get the baby out, it generally means that it's almost time, so in all likelihood, Teigen's baby is probably on its way very, very soon.
Pregnant life has probably been a bit of a blur for Teigen lately, as she was recently the lucky recipient of a baby shower at Kim Kardashian's crib, a star-studded soirée that included nacho cheese and McDonald's french fries, and has been promoting her newly-released cookbook Cravings.
In the meantime, Teigen has pretty much kept up with her daily life and has chosen to keep her pregnancy as a footnote to all of the other work she does. In a recent tweet, Teigen even seemed annoyed with fans who had tried to give her "pregnancy advice" about "enjoy[ing things] now" before she the baby arrived. "I know it's mentally and physically exhausting," she tweeted. "I know. I'll see it and live it. It's fine." ‌
Once Teigen decides she wants her legions of followers to know about her due date, her baby, and the details of her life as a mom, she'll likely be the first one to post awkward parenting moments for everyone to see. Until then, we'll just have to sit and wait patiently with our Twitter notifications on.