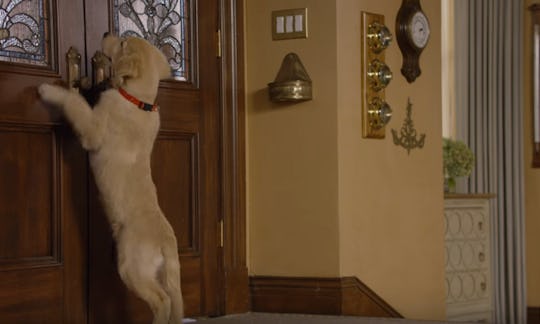 Is Comet, The Dog From 'Full House,' Still Alive? The New 'Fuller House' Trailer Is Pushing Fans To Tears Over The Question
When Full House ended in 1995, fans had to say goodbye to the entire Tanner family. They watched as Danny and the girls took their final bow. They got a bit misty eyed when Uncle Jesse, Aunt Becky, and Joey delivered their final lines, and fans even felt a bit broken hearted by the idea of saying goodbye to Comet — the family's dog for five seasons. But, the family that '90s kids grew up with is back in Fuller House in February. And, while asking if Comet from Full House is still alive seems absurd, (I mean, he would be quite old) the trailer for Fuller House features a dog that looks just like him.
In the new trailer for Fuller House, which will come out on Netflix Feb. 26, we don't actually see any of the show original cast members. In the trailer, posted to YouTube, the camera pans through San Francisco, passes by a trolley car, zooms in on the now infamous "red door," and moves into an empty kitchen. When it enters the living room, things actually get interesting. Because it is then that viewers see a familiar face (well, sort of).
An adorable golden retriever runs into the room at the sound of a car horn. The dog barks when DJ asks for help carrying boxes and then races to the door as soon as he (or she?) recognizes Uncle Jesse's and Danny's voices. And, while we hope the dog is somehow related to Comet — maybe one of his grandchildren — and not a ghost of sitcoms past, we don't "know" anything.
There's not much information on what dog actually played Comet in Full House. A dog named Buddy played him for a few episodes, but that dog died of cancer in 1998, according to the Full House Wikia. I mean, uh, he didn't die, because Comet is immortal! At least, that's what Full House fans want believe, and the new Fuller House trailer will continue letting them live in that adorable fantasy.
What we do know for sure is that come February our lives — and our hearts are — are going to get a little fuller, one way or another.
Images: Netflix/YouTube; Getty Images