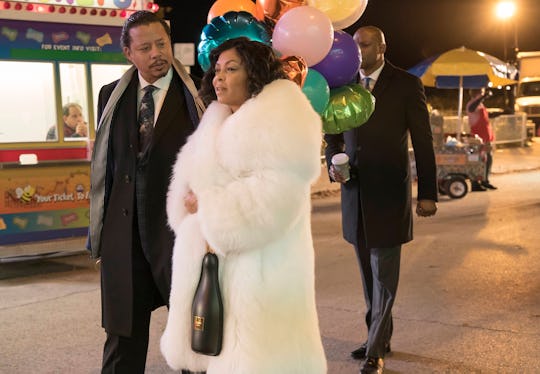 Chuck Hodes/FOX
Is Cookie To Blame For Jamal's Shooting On 'Empire'? Lucious Reveals Why
Empire is a soap opera at heart, with each episode upping the last and always bringing the drama. In some cases, what characters do seasons ago may come back and haunt them. Such is the case on Wednesday's episode – which happens to be the last episode before the fall finale. Remember way back when, when Cookie orchestrated the death of Freda's father? No? Well, she did, and now it's coming back to shake up the Lyon family. Was Cookie to blame for Jamal's shooting on Empire? In a particularly Lucious moment, he revealed why that may be.
Recently, Jamal's been getting into Lyon family history for musical inspiration – especially after the shooting, when it's so hard for him to make music at all. He's been so enthralled with the story of his parents that his next album will be entitled When Cookie Met Lucious. Footage from old family videos play as he sings songs of his parents love...and his father's awfulness. Jamal gleaned from stories that Lucious was responsible for the death of Cookie's father – but Lucious did not hesitate to tell him otherwise.
Where did this notion come from? Well, last week, we saw a glimpse into Cookie's past. We saw how her father didn't like the idea of her and Lucious' relationship – so much so that he eventually threw her out of the house for being with him. Soon after, he suffered a heart attack. Jamal took that to mean that Lucious was to blame, but he (of course) denied it...then got super emotional about it.
"I'll be damned if I will ever apologize for loving you," Lucious said. Jamal wasn't having it, and actually called on Lucious to leave Empire. This is when Lucious turned on Cookie, and dropped a major bomb: "When your mama called in a hit to clean up the mess she made with Freda's father," he said, "who do you think answered that call?"
What does this mean? It seems to be that Cookie is the catalyst behind the death of Freda's father. Not only that, but Lucious is saying that his death may be the reason Freda came after the Lyons – which resulted in Jamal's traumatizing shooting. Jamal had warmed up to Cookie – had written songs praising her, even – but now that might all fall apart. How will this affect their relationship, and affect all the Lyons? With only the fall finale left, we just have to watch and see.