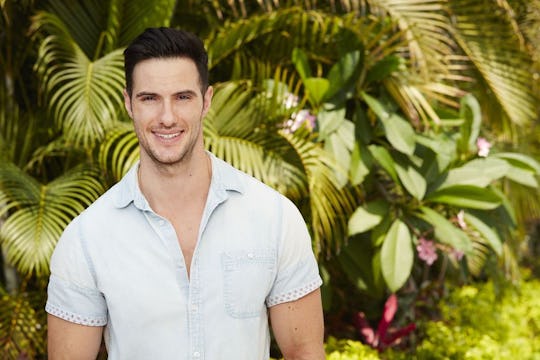 Craig Sjodin/ABC
Is Daniel Single After 'Bachelor in Paradise'? He's Campaigning To Be The Next Bachelor
Bachelor in Paradise is in full swing to the point where, during this week's first cocktail party, Daniel Maguire was the only guy handing out roses who was still uncoupled. He ultimately gave his rose to Haley (also securing Emily's spot), rebuffing the advances of both Sarah, who had baked him a half-birthday cake, and Ashley I., who'd had a surprisingly easy and comfortable date with him. But Haley quickly ditched him after leading him on for a rose, and so Daniel is still technically a free agent. So is Daniel single after Bachelor in Paradise? Considering how heavily he's campaigning to be the next Bachelor, probably.
There haven't been any photos on social media of him and any particularly special lady, although it's possible he's keeping a relationship under wraps so as not to spoil the outcome of Bachelor in Paradise. But just last week, Daniel told People in an interview that he believed he should be the next Bachelor:
"I'm the most realistic, regular guy out there. Most of the Bachelors — to be honest…they're so fake, I've never met one of these types of guys in my entire life. Most guys, they talk like how I would…That's why so many regular guys watch the show and love me."
He also referenced the fact that he — like Chad — would not be gushing "I love you"s right away and would be more calculating in his affections. Which like, remember what happened the last time we had a withholding Bachelor?
Daniel even bashed Luke Pell as a potential Bachelor pick, saying that viewers "might as well put it on mute" if he were chosen "because that's how boring he is." He maintains, "I have a serious side and an intellectual side as well, but obviously on TV they can only show so much."
I would argue that they have shown so, so much of Daniel on Bachelor in Paradise, but it's true that he's getting played off as the off-beat, alien-in-a-hunky-human-suit contestant of the season. And that is not what Bachelors are made of. If production was actually considering him, they'd be playing at least some insights into his vulnerabilities, which he may simply not be revealing. He's remained totally unapologetic (like Chad) about some of his "jokes," maintaining that he's just "keeping it real" and that that's what people like.
Truthfully, we've seen that "what people like" is real, complex humans who aren't afraid to express their emotions. For all his faults, even Robby managed to come in runner up on JoJo's season because he told her he loved her during Week 5, which many people dismissed as being appallingly early. If Daniel really wants to be the next Bachelor, then cutting his "humor" defense and letting people in will be what gets him there — not the fact that he won't say I love you right away.