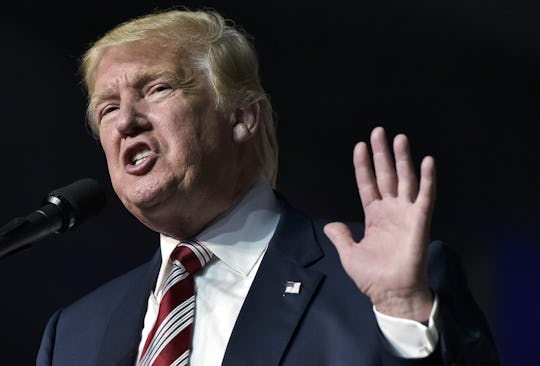 MANDEL NGAN/AFP/Getty Images
Is Donald Trump Ahead In The Polls? On The Eve Of The Debates, Numbers Are Mixed
Ah, remember late summer, after the Democratic National Convention? What a lovely time for liberals. Hillary Clinton enjoyed a more-than-comfortable lead in the polls. Democrats could fall asleep at night anxiety-free. Then, the last few weeks happened. And now Donald Trump is ahead in some of the polls, meaning that the next president of the United States could actually be a man who has made comments implying that "Second Amendment people" should commit violence against his opponent.
In the latest Bloomberg Politics national poll, Trump and Clinton tie at 46 percent in a two-way race, while Trump ekes out a win when the third-party candidates are included, besting Clinton 43 percent to 41 percent. However, Clinton supporters shouldn't necessarily start looking into how to move to Canada yet. The numbers are not unanimous, and the majority of the polls still have Clinton ahead. The latest NBC News weekly poll, for example, gives Clinton a five-point lead in a match including the third-party candidates, and a seven-point lead in a two-way race. The New York Times, which recently called Trump the "worst nominee put forward by a major party in modern American history," is optimistic, giving Clinton a 69 percent chance of winning.
But what's really freaking liberals out is statistics wizard and FiveThirtyEight founder Nate Silver's prediction on Monday morning that, if the election were to be held that very day, in advance of the first presidential debate, Trump would have a 54.5 percent chance of winning.
Nate Silver is a very, very good pollster who, if anything, has underestimated Trump in the past. And now, he is saying that the election is "a dead heat."
Of course, there are so many polls out there, and they're constantly in flux. By Monday afternoon, Silver's "Now-cast" model (of who would win the election if it were held at that very moment) was back to favoring Clinton, giving her the narrowest of victories at 50.6 percent to Trump's 49.3 percent. And the polls will likely change drastically after the first debate, where Trump and Clinton will finally stand on the same stage and attempt to have a substantive discussion about issues. (Of course, to surge in the polls after the debate, Clinton will need to do a million things right. Trump will need to stand in one place and speak in complete sentences.)
Still, the latest numbers certainly serve as a wake-up call for Clinton supporters to work their butts off getting out the vote, and to have some very persuasive conversations with that one friend who still can't let go of Bernie.