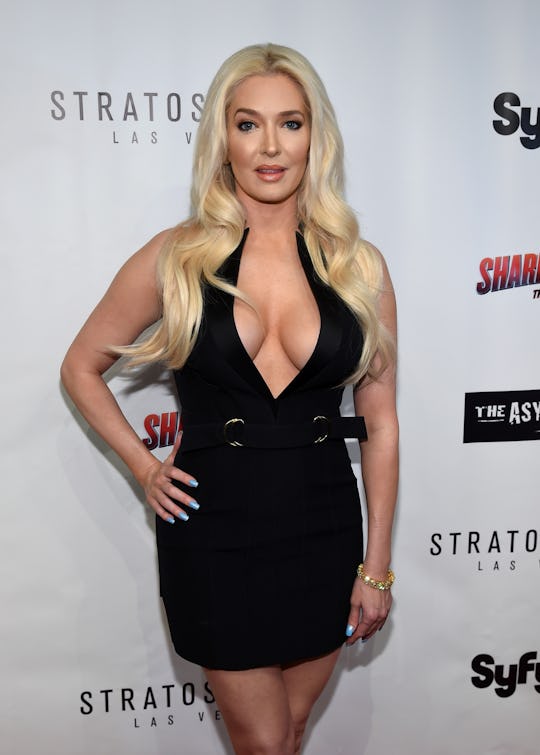 Ethan Miller/Getty Images Entertainment/Getty Images
Why Erika Girardi's Son Avoids The Spotlight
Just when you think you know everything about the Real Housewives, they go ahead and surprise you with a mysterious son. OK — it was no secret that Beverly Hills housewife Erika Girardi had a son, but thanks to the wonders of social media and a The Daily Dish interview with the star, we know so much more about him now. There's one super important reason that he shies away from the cameras: Erika Girardi's son is still a cop and so his personal life just isn't as public as his mother's.
Girardi had her son, Tommy Zizzo, when she was 21 years old and he's now 23 and lives in Pasadena. Zizzo used to live in Jersey City, New Jersey, which is just outside of Manhattan, but moved to Los Angeles sometime before 2014, when he graduated from the police academy.
Girardi had her son with her first husband, who goes by the same name as her son, but, according to The Daily Dish, the reality star raised her son as a single mom. She also always knew that Zizzo was destined for a life in blue. "It's a dangerous profession. I've known my son was going to be in law enforcement from the time he could walk and talk." Girardi said. "That's all he's ever wanted and that's kind of your role as a parent is to honor who your children really are."
The fact that he's a police officer definitely justifies the fact that he stays away from his mom's show — no one wants to get pulled over by a reality TV star (well, I secretly do, but that's another story). And although he keeps a low profile, he also makes his mom proud. So proud, that she doesn't even nitpick about his personal life or who he's dating. "I don't have any requirements for my son, who he dates, because he's an adult," she stated. "He has good judgment and he has a great head on his shoulders. So whoever he chooses to date, I'm sure they're lovely."
In a separate interview with Bravo, she also remarked that her son "would never bring someone home that was insane. I mean, or else we'd have to have a talk about it." Girardi (and her alter ego Erika Jaybe) have enough drama as it is. But in general, the housewife and pop star said she's tries not to meddle. "He has to run his own, but I think he's doing a great job."
It's a shame that we don't get to see or hear more about Tommy and his mysterious dating life, but we get it, we get it. When there's The Real Housewives of Beverly Hills to protect and serve, who has time for celebrity?