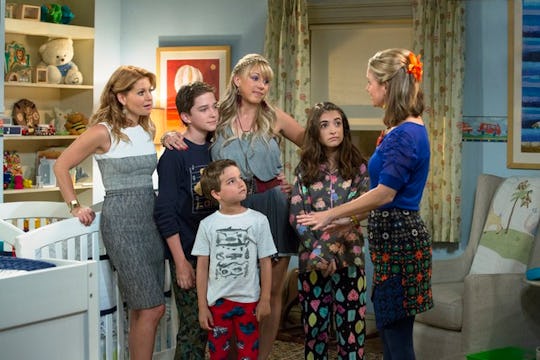 Netflix
Is 'Fuller House' Safe For Kids To Watch? It Will Tackle Similar Family-Friendly Themes
It turns out, you can go home again. As long as Netflix thinks you're worth it, of course. Otherwise, you probably can't, so don't try. As of Feb. 26. Netflix will be streaming season one of Fuller House for die-hard '90s kids who grew up watching the Tanner family spout off catchphrases to tiny laugh tracks and "awwwwws." For those of you who don't remember, the original series Full House chronicled the life of a widowed father who enlists the help of his best friend and brother-in-law to help raise his three daughters. The reboot is sure to be a crowd-pleaser for the nostalgic set looking to share one of their childhood favorites with their own kids. But is Fuller House safe for kids to watch?
Fuller House is being touted as a return to family TV, a formula that's been dying off in recent years. What was once a sure bet — a well-lit show about family problems that seem hilariously insurmountable but get solved in 30 minutes or less, including commercial breaks — hasn't been holding the same weight it once did with viewers. But Netflix is banking on a revival. The creators of the show appear anxious to stick to the wholesome, feel-good nature of the original series, which bodes well for parents looking to share the Full House experience with their kids.
The original series could get surprisingly heavy at times, starting off as it did on such a dark note. Danny Tanner (Bob Saget) played a recently widowed father of three girls; D.J. (Candace Cameron), Stephanie (Jodie Sweetin) and of course, the catchphrase maven, Michelle (Mary Kate and Ashley Olsen). His best friend Joey Gladstone (Dave Coulier) and brother-in-law Jesse Katsopolis (fave '90s TV hunk John Stamos) move in to help him with the girls. Reviewers like Common Sense Media found that the show was "generally family friendly" even though the girls "sometimes seem too eager to grow up too quickly." For the most part, though, the original series was a pretty safe bet. It didn't push too many boundaries, and it taught kids important lessons like don't lie or cheat. So if you could sit through 30 minutes of laugh tracks and Saget smugly smiling at his not-that-funny jokes, you were golden.
The new series looks to be more of the same with a slight twist. The show opens with the oldest Tanner daughter D.J. living as a widow in her old house raising three sons alone. Her sister Stephanie and best friend and single mom Kimmy Gibbler (that's right everyone, the famous Kimmy Gibbler is back!), move in to the Tanner household. So a bit of a twist, but will it be enough to hold a younger audience?
I think it will. I think there's something universal about the old-fashioned family programming that should stand the test of time. Sure, you'll probably be dealing with some more mature issues (after all, D.J. is a widow, and Gibbler is a single mom) but that could be a good thing. Open up a dialogue with kids in a natural, unforced way.
And at the end of the day, isn't that what parents should try to be do sometimes — use television as a gateway to help their kids actually talk to them? Good on ya, Fuller House.