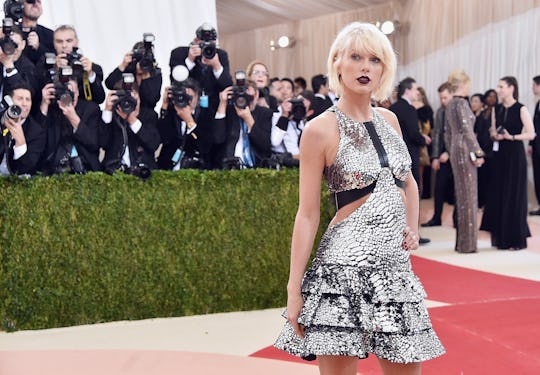 Mike Coppola/Getty Images Entertainment/Getty Images
Fans Are *Convinced* Taylor Swift's "Getaway Car" Is All About This Ex
Like pretty much all of her other albums, Taylor Swift's Reputation is mostly about her various relationships with people. There are songs about new romances, feuds with friends and other stars, and one song in particular that's about a relationship that was doomed from the start. It's safe to assume that each track is about someone from Swift's past, but fans are generally in consensus that "Getaway Car" is about Tom Hiddleston. It's the perfect rebound song.
It's also super telling, since while it was happening back in 2016, Hiddleswift, as the celeb media lovingly called them looked so happy. Remember their "love tour" of Europe? When they hopped from country to country and made out on every rocky beach and historical landmark?
They were totally "that couple." He wore an "I Love T.S." T-shirt in public. It was so extra that some people even thought the relationship was stunt for the press. Alas, "Getaway Car" reveals an even darker side to the romance.
You might remember that right after the Met Gala in May 2016, which Swift chaired, images circulated of her and Hiddleston dancing the night away, without Calvin Harris, her beau at the time, in tow. Just a month later, in June, she and Harris confirmed their breakup. It wasn't pretty, according to sources.
One friend close to the couple told People that the split wasn't a "shock" and that they had been having issues for sometime in their year and half-long relationship. The source said at the time, "They come from very different worlds. Taylor is used to being treated a certain way." Talk about a burn, huh? Especially when you're ex reappears afterwards galavanting around Europe with Hiddleston.
Judging from the lyrics to "Getaway Car," Hiddleswift was a total rebound relationship, something that happened because she "needed a reason" to "leave him." If you're not totally convinced that that "him" she needs to leave is Harris, in the first verse she also mentions that the "ties were black and the lies were white" when she first spots her "getaway."
Come on. That's definitely about dancing with Hiddleston without her boyfriend around at the Met Gala. Also, a "getaway car" is the perfect metaphor for a rebound, right? Like you need to hop in and drive far, far away from a relationship that isn't working. But since you're running away, it's not exactly the healthiest thing either. It's poetry.
The song also makes it sound like she was conflicted, or bored, and that Harris was also close behind this so-called "car." In the first verse she sings, "It was the best of times, the worst of crimes/ I struck a match and blew your mind/But I didn't mean it."
Who knows if she's talking about fibbing to Harris or actually cheating on him (does it matter at this point?), but either way, wanting to find a reason to leave a relationship is always the worst of crimes. And it was also the "best of times" for Swift, in some ways, as she was fresh off of a Grammy win, chairing the Met Gala, and generally just at the top of her celeb game.
Then everything kind of fell apart.
Harris has said that he didn't take the end of the relationship well, first deleting Swift from his social media accounts and then re-following her. He wasn't aware that Swift and Hiddleston were dating until the rest of us did, according to People, which means that just a few weeks after he broke with Swift, he had to swallow his pride and watch this new relationship unfold. Swift seemed to understand that might have been terrible, as she sings in one of the verses:
It was the great escape, the prison break/The light of freedom on my face/But you weren't thinkin'/And I was just drinkin'/Well, he was runnin' after us, I was screamin', "go, go, go!"/But with three of us, honey, it's a sideshow/And a circus ain't a love story/And now we're both sorry (we're both sorry).
It's like that the "circus" is the media attention that surrounded the couple and the goings-on on social media from Harris. Later that year, while Swift and Hiddleston were still dating, he went on a Twitter rant, accusing his ex of using people to stay in the headlines.
"Getaway Car" is mainly about how Hiddleswift wasn't "fake" like so many haters thought, but that it was definitely a rebound that Swift's heart wasn't totally into. With the way she says "I'm sorry" at the end, it sounds like she's put a ton of thought into it — and isn't about to make things as clean cut as some people might want.
All relationships are tricky and complicated and sometimes it's hard to trust yourself (and the other person) when you fall for a new person. "Getaway Car" totally has those vibes. And might just be one of the more thoughtful, artful (those lyrics) songs on the whole album. Just saying.
Check out Romper's new video series, Romper's Doula Diaries:
Watch full episodes of Romper's Doula Diaries on Facebook Watch.