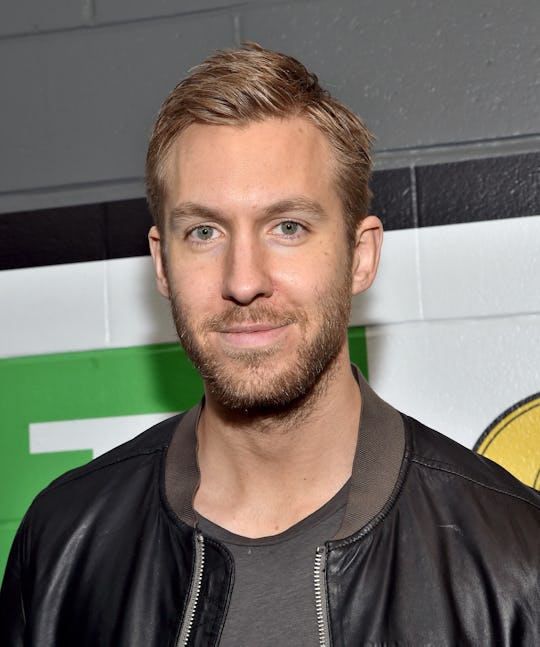 Mike Coppola/Getty Images for iHeartMedia
Why Isn't Calvin Harris At The Grammys? Taylor Swift Hit The Red Carpet With Someone Else
During the 58th Annual Grammy Awards on Monday, Feb. 15, one question seemed to be plaguing the world of music before the show even started. During the Grammy red carpet show on E!, people couldn't help but wonder, "Why isn't Calvin Harris at the Grammys?" His girlfriend, country-turned-pop-superstar Taylor Swift was in attendance, and set to perform during music's biggest night. So why was the famous DJ missing?
(Update: According to E! Online, it seems Harris was too busy making his own music to make red carpet music with Swift. As a source tells the outlet, "He is working and in the studio." And it seems Swift and Harris might not have even attended the event together even if Harris was available. Continued E!'s source, "Things are great between both of them. Taylor had plans on going with Selena for some time.")
While I'm not so bold as to speculate about any romantic relationship issues between the two, I can say that the DJ was missing because Swift's pal, Selena Gomez, wasn't. The two divas of pop music arrived on the Grammys red carpet together, so it seems that when faced with a decision, T-Swift will always choose ovaries before broveries. Gomez seems to have a similar set of beliefs. Although she recently released a new single, "We Don't Talk Anymore" with Charlie Puth, Gomez decided not to bring Puth along for the Grammy ride, either. (Puth later arrived at the show with his mom as his date.)
Not knowing any better, I would have assumed that the two decided to watch Parks and Recreation and take a page out of Leslie Knope's book before the Grammys, but social media let us know that the Swift and Gomez were busy celebrating their Grammy win for "Bad Blood" instead.
Harris' absence wasn't the only thing people were talking about. When Taylor walked on the red carpet, it was her dress and its striking resemblance to a dress warn on a favorite 1990s rom-com that had people buzzing. Swift's dress looked just like Bianca's prom dress from the movie 10 Things I Hate About You, which proves one of two things: Either T-Swift's personal stylist has impeccable 90s movies taste, or Swift does herself. I'm personally hoping both scenarios are true.
Maybe Calvin had bigger fish to fry on Monday, or maybe he didn't want to brave the crazy Los Angeles heat. (The rest of the country is freezing, but it's 88 degrees in LA? How is that possible?!) Either way, Taylor has once again solidified herself as the queen of all girl squads to ever assemble and squad, and it doesn't look like she's looking to change that image or shed that title, any time soon.
Whatever. #GirlPower.