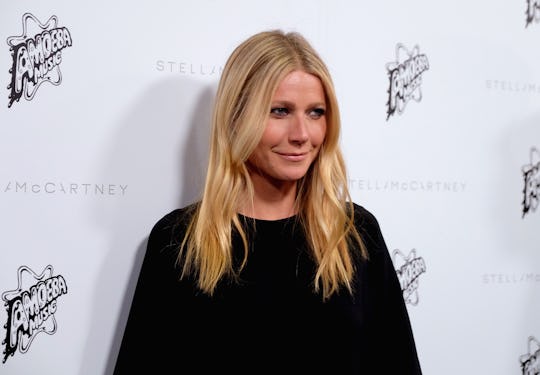 Frazer Harrison/Getty Images
Is Gwyneth Paltrow At The Super Bowl? Ex-Husband Chris Martin Is Playing The Halftime Show
Since Coldplay is playing the 2016 Super Bowl halftime show, meaning that frontman Chris Martin will certainly be there, is natural for viewers tuning in to ask, is Gwyneth Paltrow at the Super Bowl, too? Yes, Paltrow is Martin's ex, but their life after breakup has never been ordinary. Apparently, their famously announced "conscious uncoupling" involves being around each other a lot for their kids. So it's natural to think that, especially if their children are attending a pretty big performance by their father, Paltrow might be there with them. Because family.
In early December Billboard confirmed that Coldplay would be headlining the 2016 Super Bowl for the first time. In addition to Martin, the band, which is famous for songs like "Viva La Vida" and "Yellow," includes Guy Berryman, Johnny Buckland, and Will Champion. (The show will also include Beyoncé and Bruno Mars, and Bey is reportedly performing her new single "Formation," which she dropped yesterday.)
Paltrow and Martin divorced in 2014 after 10 years of marriage. Paltrow broke the news of their separation on her lifestyle website, Goop, in a blog post titled "Conscious Uncoupling," a headline she later told Fast Company her editorial director took from psychology. Paltrow wrote:
We are ... always will be a family, and in many ways we are closer than we have ever been. We are parents first and foremost, to two incredibly wonderful children and we ask for their and our space and privacy to be respected at this difficult time. We have always conducted our relationship privately, and we hope that as we consciously uncouple and co-parent, we will be able to continue in the same manner.
The post, and the headline especially, quickly inspired mockery, but Paltrow and Martin do seem to take a very intentional approach to their post-divorce relationship, especially as it affects their daughter, Apple, and son, Moses.
According to People, the exes and co-parents celebrated her 43rd birthday together in September, attending a Coldplay concert, and in November the Academy Award-winning actress posted a photo on Instagram of Martin and Paltrow spending Thanksgiving together with their children.
So again, it's not a crazy idea that Paltrow might attend the Super Bowl (even if it's secretly not about being with her kids or supporting Martin and entirely about watching Beyoncé).
As it turns out, Paltrow is at the Levi's Stadium in Santa Clara, California tonight., and that's not all. She took this AHHHmazing photo of her daughter, Apple, with Beyonce's daughter, Blue Ivy, with the caption "#Superbowl50 jacket game":
So there you have it, Paltrow and Martin once again practicing what they preach. Gwyneth, please enjoy Coldplay and your integrity as a co-parent but ALSO BLUE AND BEYONCÉ (PLS TELL US EVERYTHING WE'RE COUNTING ON YOU OK THANKS BYE).