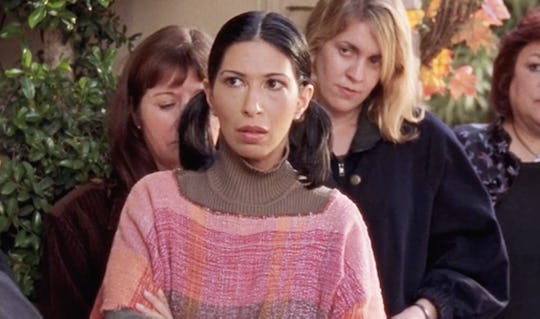 Warner Bros.
Is Gypsy Berta In The 'Gilmore Girls' Revival? Rose Abdoo Took On Two Roles At Once
Emily has never been one to keep a maid for very long, but in the Gilmore Girls revival, Berta was apparently good enough to keep for at least an entire year. In fact, the doting maid even continued to work for Emily even after she sold the house. But if Berta looked a little familiar, that's because you already kind of know her as someone else. So, is Gypsy Berta in the Gilmore Girls revival? Rose Abdoo played Gypsy for several seasons of Gilmore Girls when it was still on the air and reprised her role as a Stars Hollow smart mouth resident — but in the revival, that's not all she played.
It has been confirmed that Abdoo played both parts, so yeah, Gypsy and Berta are played by the same actress in the Gilmore Girls revival, which means Abdoo worked double time (literally) playing both characters in the four-part series on Netflix. It was almost impossible to recognize her under that wig and behind those glasses and accent, but almost instantly fans could tell that was definitely her. (You can't pull anything past a true Gilmore Girls fan.)
Berta was introduced for the first time in the Gilmore Girls revival and while Emily hiring new maids at the drop of a hat is nothing new, it was unusual for her to keep any of them around long enough to see the changing of the seasons. But now viewers know that Berta had a little something extra that the other housekeepers didn't.
Gypsy first appeared in Season 2 of Gilmore Girls and randomly popped up from time to time until the end of the series, mixing well with the other residents of Stars Hollow with her antagonistic attitude and deadpan way of delivering her lines. Before the Gilmore Girls revival, she did have one particular interaction with the Gilmore matriarch, which entailed a drunk Emily trying to get to know her better. Of course, Gypsy acted somewhat standoff-ish toward her in her usual sarcastic fashion, but who would have known that years later, Abdoo would be in Emily's life as Berta, one of her longest standing maids and (dare I say it) friends?
But where Gypsy is the kind of hardened and super sarcastic mechanic of Stars Hollow, Berta is much softer and, although Emily was never able to really understand her, she seemed to have her employer's best interest at heart most of the time and even brought her into the modern age with the first ever TV in the living room of her house. Score one for Berta!
Yes, Gypsy is Berta on the Gilmore Girls revival and while that could have gone badly, Abdoo is obviously no slouch when it comes to playing two totally different characters at once. Well done.