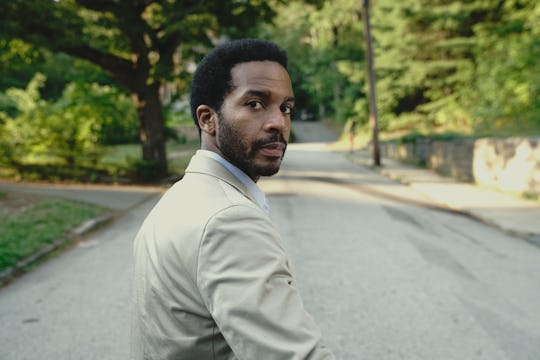 Patrick Harbron/Hulu
'Castle Rock's' Henry Deaver Was Developed With Inspiration
Taking inspiration from the fictional world of Stephen King, Castle Rock features a number of subtle nods to his infamous characters and settings. While characters like Alan Pangborn and Jackie Torrance have links to King's novels, fans are wondering about the show's main character. So is Henry Deaver in other Stephen King books, or was his character created specifically for Castle Rock?
In an interview with IndieWire, Castle Rock creators Sam Shaw and Dustin Thomason revealed that Henry Deaver's (Andre Holland) character was inspired by various King novels, but was created solely for the show. "We spent a lot of time thinking about aspects of some Stephen King protagonists as we were constructing him," said Shaw. "Stephen King is clearly fascinated by crime and punishment in stories about prisons — death row is obviously fascinating to him, so it wasn't an accident that we made Andre's character a death row attorney."
In a panel for Castle Rock at New York Comic Con as reported by Bleeding Cool, the show runners discussed their methods of creating original characters that embodied "the spirit" of Stephen King. "Even in the construction and imagining of these new characters who occupy this world and this story, there were a lot of ideas and tropes and themes that recur throughout Stephen King's library that we tried to metabolize and incorporate into the storytelling," said Shaw. "Like, nobody had a good childhood in Stephen King, nor in our show. There's a lot traumas of childhood revisiting the adult."
On the show, Henry's character has definitely seen a traumatic childhood. In the first episode, it is revealed that he went missing for 11 days as a young boy and has no memory of the time he was gone. But as he mysteriously reappeared, his father, Reverend Deaver died, and the whole town has been blaming Henry for his death ever since. In later episodes, it is revealed that Henry and his father used to go out on torturous listening missions in the woods, in which Henry's delusional dad would force him to try to hear the "voice of God."
The characters and settings on Castle Rock share a tone and connection to King's universe, but the story told isn't his. Thomason and Shaw have used the author's expansive library as a reference to create their completely original story lines. But as King fans, they incorporated a few of his elements, including the town of Castle Rock itself, Shawshank Prison, and a host of references to events from Cujo, The Body, and The Shining. The only direct character taken from King's books is Alan Pangborn, who was featured as a protagonist in a few of his novels including Needful Things and The Dark Half.
The only other direct character reference is Jack Torrance from The Shining, with his niece Diane aka Jackie revealing her connection to him on the show. However, some character names seem to be a fun throwback to iconic King characters that the creators threw in just for fun. The creepy old man who stored Henry's police files in Episode 4, Joseph Desjardins, is referenced as the brother of Vince Desjardin, a gang member in King's novel The Body. The surname is also shared by the P.E. teacher from Carrie, Miss Desjardin.
If you are familiar with King's novels, you'll see the subtle hints to his stories scattered throughout Castle Rock, including the sordid and dysfunctional family lives of many of the characters. And while Henry Deaver's name may not be found in any King books, his character arc was developed to fit with the author's style and tone.