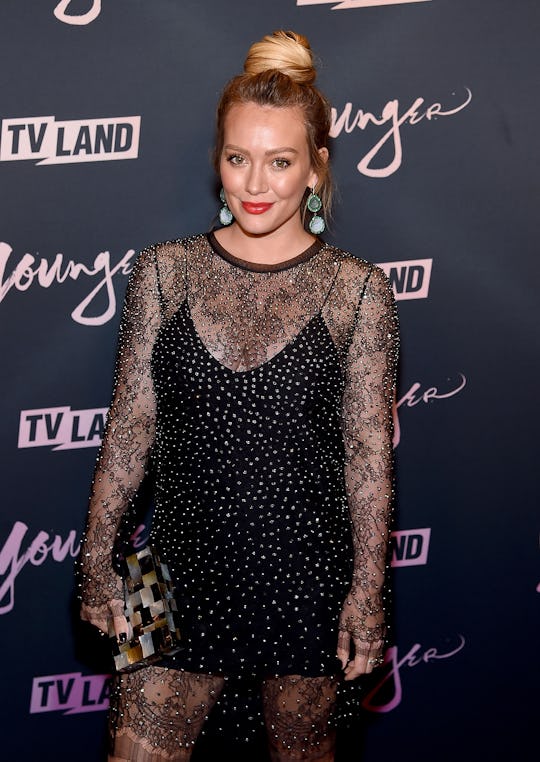 Jamie McCarthy/Getty Images Entertainment/Getty Images
Is Hilary Duff Married? The Actress Is Expecting A Baby Girl With Matthew Koma
In case you're still living in the early 2000s like I am, here's a gentle wake up call for the both of us: Lizzie McGuire and Gordo are sadly not together anymore. Hilary Duff, 30, has very much moved on from her tweenage crush and onto the world of real, grown-up relationships. The actress is a mom of one (to her 6-year-old son Luca) with another baby on the way, so fans may be wondering — is Hilary Duff married?
Duff is not currently married, but she has been in a relationship with her boyfriend, musician Matthew Koma, for about a year, according to Harper's Bazaar. Koma is an accomplished musician — he produced Shania Twain's newest album, he won a Grammy for co-writing the song "Clarity" in 2014, and he even co-wrote songs for Duff's 2015 album, Breathe In. Breathe Out., as Harper's Bazaar reported.
And the Lizzie McGuire star is currently pregnant with the couple's first child together. They announced the happy news last week via Instagram. "Guess what guys! @matthewkoma and I made a little princess of our own and we couldn't be more excited!!!!!!🤰🏼👶🏼🎀," Duff wrote on Instagram, alongside a shot of Koma kissing her on the cheek. Koma shared the same photo on Instagram, captioned: "We made a baby girl! She will be as beautiful and sweet as her mother... @hilaryduff another incredible chapter begins."
Not only did their posts reveal that Duff is pregnant, but also that she is expecting a girl.
The news comes just days after Duff's older sister, Haylie Duff, welcomed her second daughter. Last week, she gave birth to a baby girl, Lulu, with her fiancé Matt Rosenberg. "She arrived June 5th, and brought all her magic with her!" Haylie wrote in an Instagram post announcing her family's newest member.
In an interview with Ryan Seacrest on his radio show On Air with Ryan Seacrest, Duff opened up about how badly she wanted to have a girl like her sister had, as People reported. "I was so nervous beforehand because I thought for sure I was going to have a boy," she told Seacrest, adding that her seeing her sister raise daughters made her want a girl even more. She said:
It was funny that I cared so much, ... My sister has girls and I feel like I'm really girly. But for the past six years I've bought monsters and trucks and planes and Luca's into all the boy stuff, so everything's blue and green and I was just ready for pink and purple stuff.
Duff welcomed her first child, Luca Cruz Comrie, with her then-husband, hockey player Mike Comrie, in 2012, as CBS News reported. Duff and Comrie got married in 2010, and she filed for divorce in 2015, according to TMZ. Their divorce was finalized in 2016, and the couple reportedly share joint custody of Luca, who was 3 at the time of their split, TMZ added.
Duff and Koma's relationship up until this point has been quite the journey. In December 2017, Duff opened up about Koma in an appearance on The Talk, revealing that the couple was giving things a try for the third time. Speaking about her relationship with Koma, she said:
It's going so great. This is the third time that we've dated ... I think that you have history and a past with someone, and love, and just because it doesn't work out the first time, the second time, as long as there's not too much damage done, then it can always work out again.
The actress has not commented on whether she and Koma have plans to tie the knot anytime soon, but it's clear that they are over-the-moon excited to welcome their first child together and Luca's first sibling.