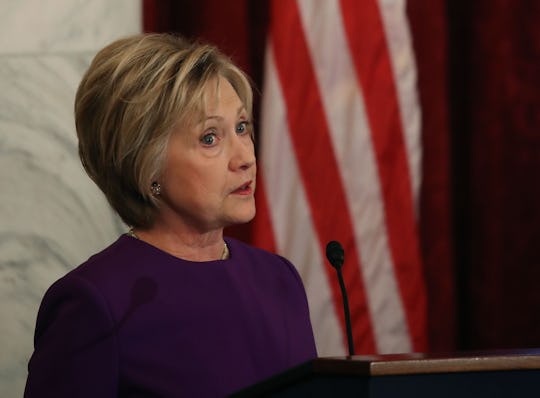 Mark Wilson/Getty Images News/Getty Images
Hillary Clinton Will Attend Trump's Inauguration
You can say whatever you want about Hillary Clinton, but one thing is non-negotiable: The woman is tough as nails. On Tuesday, it was announced that Bill and Hillary Clinton are attending the inauguration of President-elect Donald Trump. According to New York Magazine, Clinton and her aides had been discussing for weeks about whether she and her husband (it's customary for former presidents to attend the ceremony, which is why they are invited at all) would attend out of "duty" and "respect for the American process."
She's a better woman than I ever could be because after that campaign season? I would have booked myself a trip to Cuba, yes CUBA, and spent that last week of January in Ralph Lauren resort wear, sipping muddled rum cocktails on a beach.
It's not about politics or being a sore loser — that election was hard. It was hard to watch. It was hard to Tweet about. It was hard to talk to family members about. Imagine being Clinton, who had to live all of it. If anyone deserves a vacation at this point, it's probably her.
Instead, she's probably going to pull on her best pantsuit, one more time, and show up — and be on camera, and fake smile, and pretend that she doesn't think the world is ending. Just like she did the day after election. Hillary Clinton is a tough cookie, no matter what the GOP said about her health and age during the election. Remember that? They made an issue out of her health. And she's going to show up in the name of patriotism. It's hard not to respect that attitude.
Obviously, it would be more of a story if she didn't attend, so it's better that she puts on the show. But be prepared for wide camera angles and running commentary on her facial expressions from cable news anchors throughout the ceremony. Personally, if she doesn't clap or smile, and instead chooses to sip "coffee" from a Nasty Woman thermos, I wouldn't blame her. Actually, I plan on GIF-ing each smirk.
The Clintons won't be the only ones to grudgingly attend the inauguration as if it were some twisted American family reunion. Previously, President Jimmy Carter was the only living president who said that he would attend the swearing in (then again, 92-year-olds say the darnedest things). President George H. Bush won't be attending due to his health, but President George W. Bush and first lady Laura Bush will be there, "pleased to be able to witness the peaceful transfer of power — a hallmark of American democracy — and swearing-in of President Trump and Vice President Pence," according to a statement.
Although Republicans, the Bush family reportedly did not vote for Trump. In fact, George W. Bush gave a speech the week after the election getting a dig in at Trump and his supporters. Of all people.
"I understand anger, and some people may have been angry when I was president. But anger shouldn't drive policy," Bush said. "What needs to drive policy is what's best for the people who are angry," he added. Which is an uncharacteristically wise and reasoned view from the 43rd president.
And so it is. In a weird, strange turn of events, Hillary Clinton and George W. Bush — of all the frenemies — will both be attending the inauguration of a man they don't support or agree with, all in the name of making sure Americans feel safe and calm, like all will be well under a Trump presidency. Ah, so this must be what 2017 is going to feel like. Let's just drink rum cocktails and pretend we're beachside until it's over — for Hillary's sake, at least.