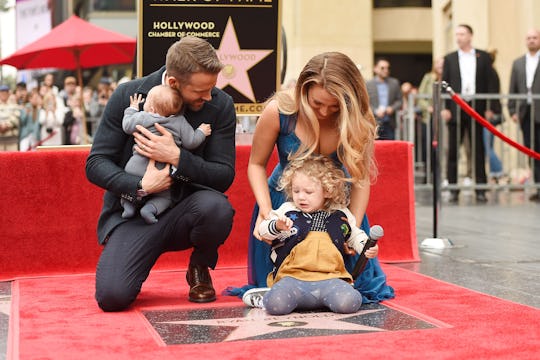 Matt Winkelmeyer/Getty Images Entertainment/Getty Images
Could Ines Reynolds Be A Family Name?
Nearly two months after the birth of Blake Lively and Ryan Reynolds' second child, they finally revealed their baby girl's adorably unique name. According to Us Weekly, the power couple chose the name Ines for their newborn. This charming name has left many curious about what the significance — if any — behind it. After all, the Hollywood parents did name their first daughter James — who is now almost 2 years old — after the Canadian actor's late father, James C. Reynolds, who died just before she was born. So, is Ines also a family name? The glowing parents have yet to reveal any other details about the inspiration for the name, but it certainly has a nice ring to it and its meaning is beautiful.
According to NameBerry.com, Ines is a Spanish name derived from the Portuguese form of Agnes and has Greek origin as well. The name is pronounced "ee-NEZH" and means "pure" and "virginal" or "sacred" and "chaste," according to the name site.
Ines Lively Reynolds is definitely much cuter, but probably not quite as unique as "Excalibur Anaconda Reynolds," which is what Reynolds jokingly wanted to name his new daughter, but his better half thankfully shot down the suggestion right away. "When I ran it up the flagpole with my wife, it was resoundingly rejected," Reynolds recently said in an interview CTV's eTalk.
Although the notoriously private parents have kept their little girls out of the public eye, fans finally got to see the whole family together in an official appearance for the very first time last week when Reynolds received his star on the Hollywood Walk Of Fame. Perhaps it's a sign that they'll be more open with fans and the media about their adorable daughters?
Still, fans shouldn't expect any explanation or an announcement from them any time soon about Ines' name. James was nearly 18 months old when they revealed the reason why they picked the gender-neutral name for their first daughter, according to Good Morning Britain.
But their reason for holding off on revealing those kinds of private details actually does make a lot of sense, even if both Reynolds and Lively are insanely famous movie stars and are admired in the public eye.
"All that sort of stuff with kids and revealing — oh, you revealed the sex! — I didn't 'reveal' anything," Reynolds said in an interview with NBC's TODAY last month. "I just don't feel the need to publish it. It's a normal feeling that most people might have." He added that his children "didn't really choose this profession or this life" so keeping these details to themselves is understandable because he said that "they can quickly get swept up in that world."
So, it might be a few more months (or longer) until the happy parents decide to fill fans in on Ines' name, because it must have some significance behind it considering how meaningful her big sister's name is to them. But, whatever the inspiration might be, Ines is a beautiful name for their adorable baby girl and fans already can't get enough of her.