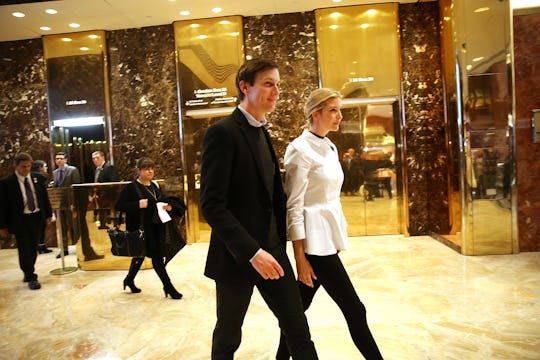 Spencer Platt/Getty Images News/Getty Images
Ivanka Trump's New Neighbor Is One We All Know
Although her father reportedly plans on spending half of his time in the White House and the other half at his other residencies in New York City and Mar-a-Lago, other members of the Trump family are planning on making a full-time move to the capital. Ivanka and her husband, Jared Kushner, have settled on a house in D.C. in the Kalorama neighborhood, just blocks away from the future Obama family residency. But before you start envisioning invites to block parties and Fourth of July BBQs, are Ivanka Trump and the Obamas even friends at all?
Let's just speculate: The two power couples are probably not going to be bonding in the backyard over pinot grigio and grilled burgers come summertime, although that would make the most amazing premise for a primetime drama. Just think: Designated Neighbors. Who wouldn't want to watch that? It would be better than anything that ever happened on Wisteria Lane. (Romper's request for comment from both the Trump and Obama camps was not immediately returned. You'll just have to keep daydreaming, sorry.)
Trump and her husband are reportedly moving into a six bedroom home on the 2400 block of Tracy Place, which recently sold for $5.5 million in December. NBC News reports that it's still unconfirmed whether the couple bought the home or are merely renting from the previous owner.
Ivanka's New Crib
The home is reportedly just two streets over from where the Obama family will be moving once they leave the White House. The outgoing president will be renting a home on Belmont Road in the same Kalorama neighborhood.
The Obamas will be renting an eight bedroom, nine and a half bathroom home, which is owned by Glover Park Group co-founder Joe Lockhart and Giovanna Gray Lockhart, the Washington editor of Glamour. (It's so confusing as to why anyone needs more bathrooms than bedrooms but let's leave that to Vermont Sen. Bernie Sanders to explain to us.)
Obama's New Crib
The Obama family decided to stay in D.C. for the next few years while Malia takes a gap year before going to Harvard University and youngest daughter Sasha finishes high school. Obama told The Washington Post, "We're going to have to stay a couple of years so Sasha can finish. Transferring someone in the middle of high school — tough."
Meanwhile, there's very little word about why exactly Ivanka will be moving to D.C. or what her role in the new administration will be, though it's telling that she's planning making a permanent move, presumably to be closer to the White House and her father. There are reports that Ivanka will assume the roles normally given to the first lady, given that Trump's wife Melania will remain in New York City for at least another year while their 10-year-old son Barron finishes school.
Remember when everyone was scratching their heads about what Americans would call Bill Clinton if his wife won the election? Maybe the first lady role is more malleable than any voter thought. Packing up and moving to Kalorama is likely a sign that Ivanka plans on spending some, or a lot of, time at the White House. But whether she and Michelle will be hosting a monthly book club together? That remains to be seen.