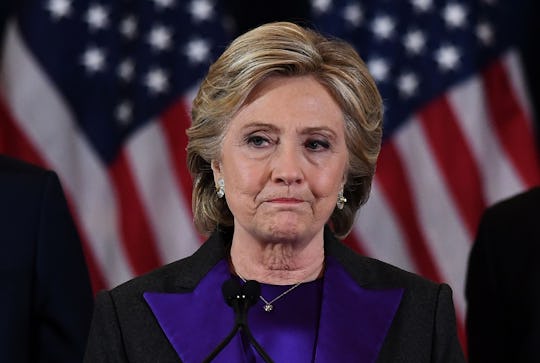 JEWEL SAMAD/AFP/Getty Images
Is James B. Comey To Blame For Hillary Clinton's Election Loss? She Thinks So
People are still trying to wrap their heads around the surprising fact that Donald Trump will be the 45th President of the United States. The shock was felt around the world with many questioning how the media, polls, and political analysts got it so wrong, predicting that Democratic candidate Hillary Clinton would win by a landslide. One possible scenario many have suspected is the FBI's unexpected revived investigation into the former Secretary of State's private email server just 11 days before Nov. 8. So, is the man behind the inquiry, FBI Director James C. Comey, to blame for Clinton's election loss? In the most extensive remarks since her concession speech, the former presidential candidate cast blame on the FBI's investigation — which ultimately still found nothing new from its original findings back in July — for putting a dark cloud over campaign's positive momentum.
"There are lots of reasons why an election like this is not successful," Clinton told supporters during a conference call on Saturday, according to The New York Times, and added that "our analysis is that Comey's letter raising doubts that were groundless, baseless, proven to be, stopped our momentum."
Just two days before Election Day in a last-minute announcement, the FBI declared that that the investigation into Clinton' handling of classified information over email during her tenure as Secretary of State was finally over.
The latest FBI investigation into Clinton's email was announced on Oct. 28, saying it had uncovered a new trove of emails that may have a connection to Anthony Weiner, the estranged husband of a top Clinton aide and former Congressman who was involved in numerous sexting scandals. On Nov. 6, the FBI announced that Clinton should not be prosecuted.
Saying he found no wrongdoing on Clinton's part, Comey wrote in a letter:
The FBI investigative team has been working around the clock to process and review a large volume of emails from a device obtained in connection with an unrelated criminal investigation. During that process we reviewed all of the communications that were to or from Hillary Clinton while she was secretary of State. Based on our review, we have not changed our conclusions that we expressed in July with respect to Secretary Clinton.
Clinton's announcement on Saturday lamented the thoughts that many of her supporters had of the stunning election results. While many believe Clinton is hardly blameless for the controversy and was very careless with her emails, it's hard to deny that Comey's letter may have pushed some on-the-fence voters to the other side, contributing to Clinton's election loss.