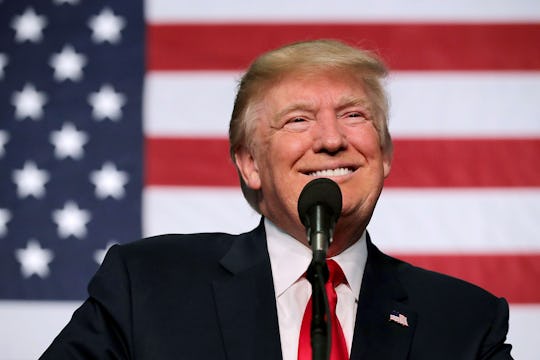 Chip Somodevilla/Getty Images News/Getty Images
Trump Gleefully Responds To FBI's Letter On Clinton's Emails & Compares It To Watergate
With just days away from the presidential election, the FBI announced on Friday that it has decided to take another look into Democratic nominee Hillary Clinton's use of a private email server while she served as Secretary of State. And her rival, Republican presidential nominee Donald Trump, was one of the first to break the news. At a rally, Trump gleefully responded to the FBI's letter on Clinton's emails and told his supporters that Clinton's handling of classified information amounted to "the biggest political scandal since Watergate."
While the FBI had closed its investigation back in July — James Comey, the director of the FBI, said that Clinton was "extremely careless" but was not criminal with her email — the FBI said on Friday that the bureau would be investigating additional emails that may have a connection to Anthony Weiner, the estranged husband of a top Clinton aide and former Congressman who was involved in numerous sexting scandals.
As the GOP nominee took the stage at a rally in Manchester, New Hampshire on Friday, Trump announced the news that the FBI had uncovered new emails to a crowd of his supporters.
"They are reopening the case into her criminal and illegal conduct that threatens the security of the United States of America," Trump said at the rally. "Hillary Clinton's corruption is on a scale we have never seen before."
Trump's announcement was met with chants from the crowd, saying, "Lock her up! Lock her up!" The GOP nominee then compared the scandal surrounding Clinton's email to be "on a scale we have never seen before" and told supporters that "the biggest political scandal since Watergate."
"We must not let her take her criminal scheme into the oval office," Trump said in New Hampshire. "Perhaps, finally, justice will be done."
Trump then praised the FBI and the justice department for looking into the additional emails and also added that "the FBI would never have reopened this case unless it was a most egregious offense."
Clinton's emails have been a major attack tactic for the Trump campaign ever since he announced his candidacy last year. Trump had even coined the nickname "Crooked Hillary" for his rival, which has been a common phrase used at his rallies, during his speeches, and on social media.
Both candidates have had their fair share of scandal and controversy looming behind them and both have found themselves in a some political hot water during this election season.
Friday's news has definitely shaken up this presidential race yet again. But as Election Day draws near, it's critical that voters consider the clear facts of these scandals surrounding both parties, rather than heated innuendo from competing candidates.