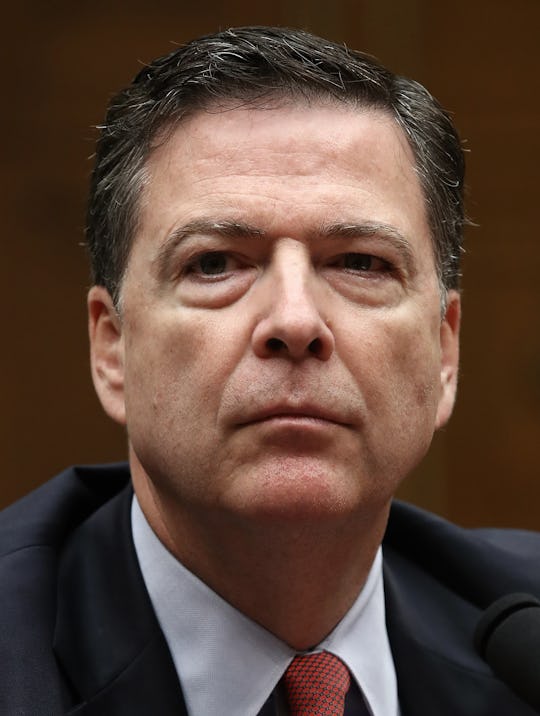 Win McNamee/Getty Images News/Getty Images
Is James Comey The Reason The Race Is So Close? Twitter Thinks So
Democratic presidential nominee Hillary Clinton was well ahead in the polls two weeks before the election. GOP presidential nominee Donald Trump was scrambling to gain traction in the battleground states, and many political pundits were calling it a win for Clinton. Now, election night has arrived and, as the results come in, Clinton is by no means a shoe-in to be the next president. Why, you ask? Well, if Twitter is to be believed, FBI Director James Comey might be the reason the election is so close.
Just 11 days before the election, Comey sent a letter to Republican members of Congress letting them know about some new emails that could be considered pertinent to an earlier FBI investigation. In July, Clinton was investigated by the FBI because of her use of a private email server while she was serving as U.S. Secretary of State. That investigation was closed and the FBI concluded that she had not acted illegally when using the private server. Comey explained that some new emails had come to light when the FBI were investigating disgraced New York politician Anthony Weiner in a sexting scandal with a 15-year-old girl (Weiner is the ex-husband of Clinton top aide Huma Abedin).
After Comey's announcement, the FBI Director was met with harsh criticism for going against the wishes of the Attorney General and the Justice Department by making this new email review of Clinton's public so close to a general election. The FBI and the Justice Department have a long-standing policy to avoid making any announcements that could potentially affect the election less than 60 days before an election. Comey's decision to make his review public was made by him and him alone. And it's negative impact on Clinton's campaign was being felt on Tuesday as the election results came in and Trump's numbers were far stronger than anticipated.
Despite the fact that the Clinton campaign repeatedly urged Comey to release the emails or at least share how they potentially pertained to the former Secretary of State. Comey hedged for eight days, until finally admitting that the email review lead the FBI to the same conclusion they had come to in July; Clinton was not guilty of anything illegal. But the damage was done.
As rumors have swirled that Trump put pressure on Republican Comey to make the Clinton email review public (spurred on in no small part by Trump's daughter-in-law, Lara Trump), his own collusion and potential tampering with a general election didn't seem to sway voters.
If Comey was colluding with Trump he certainly didn't manage to garner any favor with the nominee. Trump has criticized Comey for not prosecuting Clinton, as have some of Trump's followers. One thing is certain; no matter who becomes the next president, Comey's days as FBI Director could well be numbered.