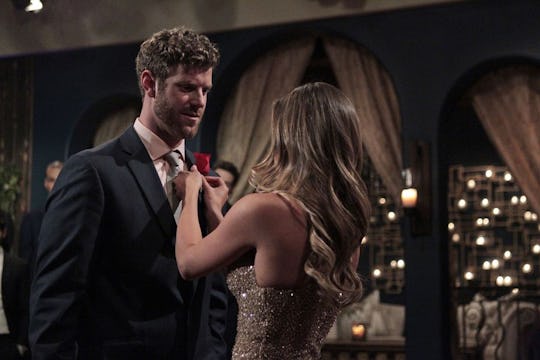 Rick Rowell/ABC
Is James Taylor On 'The Bachelorette' His Real Name? Don't Be Fooled
When presented with a man, a guitar, and the name James Taylor, most people would think of the same person, a relatively famous singer-songwriter with that particular name. So on this season of The Bachelorette, there was a little bit of a double-take when fans were introduced to another James Taylor – who also happens to be a man with a guitar trying to make it in the music industry. One has to wonder why an up and coming musician would use the same name as an established great. Is it a bid for attention or just a weird coincidence? Is James Taylor his real name?
Yes, but it's not the only name he goes by. James Taylor is his real name, but he has another name he uses for his music: James McCoy. It seems James vacillates between last names, using both for his social media but introducing himself on the show with Taylor. It's understandable that he'd want to use Taylor because it's his actual last name, but one would think he'd differentiate just for the sheer confusion factor. Way back in his Harding University student profile, James explained the discrepancy, though it still seems like he hasn't quite decided on a name since then.
"My name is James Taylor, but in the music world that name is already taken, so I go by James McCoy," he wrote, going on to discuss his love of different genres and his desire to get his original music out there for the masses. James, a tip? If you're focused on originality, maybe don't go by the same name as a guy who is pretty famous at the thing you're trying to do.
But I won't be too hard on James Two Last Names; taking advantage of his tenuous connection to James Taylor the First is obviously working out to his benefit. Plus, James Taylor the Second does have some real talent to back up his musical claims. His singsong introduction to JoJo might have walked the fine line between sweet and secondhand embarrassment, but his Instagram is full of videos of him showing off his guitar skills.
And it seems like it's working for JoJo, too. She and James got along well during their first meeting, and odds are good that he sticks are for a while. He may not have settled on a stage name, but he definitely knows what he's doing.