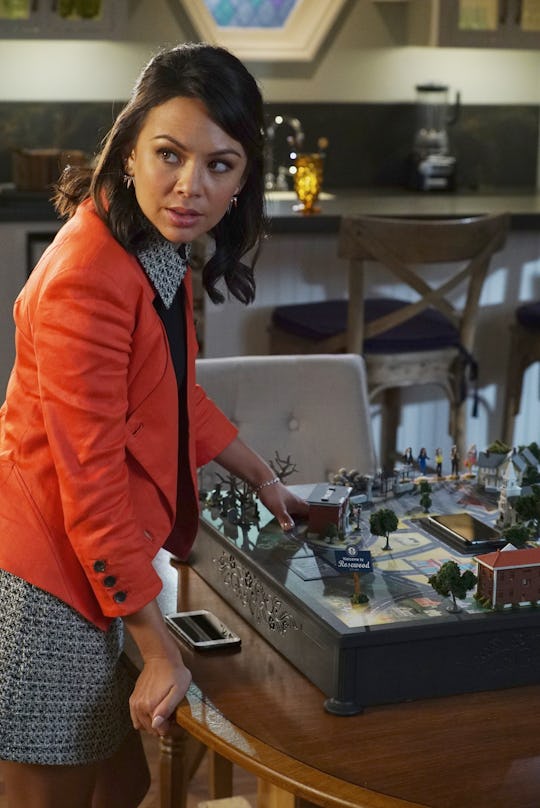 Eric McCandless/Freeform
Mona Showcased Her Vocals On 'Pretty Little Liars'
On tonight's Pretty Little Liars, "Driving Miss Crazy," Aria's anxieties about working with A.D. started to reach the breaking point. She couldn't handle hurting her friends and lying to them, but she was doing it all to protect Ezra from a report she had filled out six years ago but never filed. In it, she called Ezra a "twisted predator" who had taken advantage of his teenage student (if the shoe fits...). Her fears eventually manifested in a bizarro musical dream sequence in which Aria and Ezra had a jailhouse wedding complete with toilet paper veil and Mona belting "Jailhouse Rock." But was Janel Parrish really singing on Pretty Little Liars?
It definitely was. Parrish is both a singer/songwriter and an actress. Her career actually started off on stage, where she played Young Cosette in the touring company of Les Misérables, later playing the part on Broadway. She appeared on Star Search, too, before she went on to write and record music of her own. Parrish has contributed to more than a few film soundtracks, and she's also showed off her voice on Pretty Little Liars before. In Season 5 Episode 10, "A Dark Ali," Parrish performed "Gravity" by Sara Bareilles. It seems like she was the perfect choice for a random musical number, if the show had to have one.
Executive producer Oliver Goldstick hinted at the musical number back in January, telling Entertainment Weekly that it was going to happen in the second half of Season 7 without specifying the episode. "All of them have incredible hidden talents and singing happens to be one of them," he said. "And I thought it was a shame that we didn't utilize that, and we found a way to platform it in one of the episodes in the last ten."
Though it's always fun to see actors get to show off the full range of their abilities, Mona seemed like an interesting choice to perform the song. Considering it was Aria's stress dream, why not have her sing "Jailhouse Rock"? Lucy Hale is also a singer and she's showed off her pipes on Pretty Little Liars before, too, so she probably could have taken on the vocals herself. There had to be some significance to the fact that it was Mona, especially because she had seemingly no connection to Aria's plot with A.D.
Unless, of course, Mona is A.D. The end of the episode seemed to hint at that possibility, but her part in the dream sequence could be more revealing than it seemed at first glance. It could be a clue hiding in plain sight.