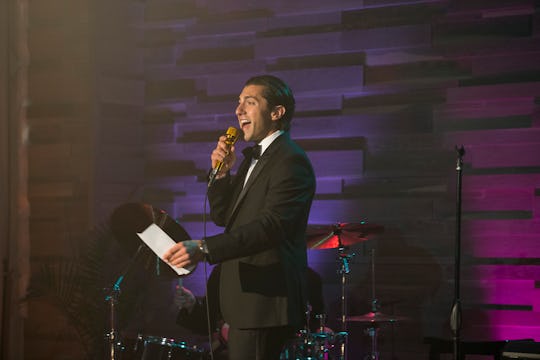 Paul Hebert/ABC
What's Happening With Jason's Love Life After 'The Bachelorette'
In the middle of the ongoing drama with the guys on The Bachelorette Monday night, Becca Kufrin managed to have at least one solid date that ended well and made it seem like things were headed in the right place for her. Jason Tartick was an easy choice for one of Becca's one-on-one dates and by the end, it seemed like they could be falling in love. It's not clear if Jason is dating anyone after The Bachelorette or if he's single and heartbroken after things may or may not have worked out with Becca, but right now in the season, they seem like a solid couple.
Outside of the show, Jason seems to be single. Or, in true Bachelorette fashion, keeping his relationship status private until the season has finished airing, just in case he is the one Becca ends up with. Since there are no mysterious women featured in any of his Instagram photos or commenting on them, I'm going to say Jason is likely single. But he might have been in a relationship right before being cast for The Bachelorette and whether or not that comes up this season, if there is truth to it, it could spell trouble for he and Becca.
Before the season even premiered, someone on Twitter posted a tweet that said, "So my friend's boyfriend Jay was supposed to come home this weekend, but she found out he won't be making the trip bc he's filming the Bachelorette right now!!! Becca needs to drop him quick!" Around the same time, she also tweeted to Reality Steve, known for his impeccable Bachelor Nation sleuthing skills, "I've got some early drama from next season for you. Jay is an azz."
Since then, the tweets were deleted, but if she was referring to Jason, that could make him a less than desirable match for Becca later on this season. But since this mysterious Twitter user could have been talking about another contestant who might go by the nickname of Jay, I'm going to give Jason the benefit of the doubt. Right now, it looks like he's single after The Bachelorette.
Up until around the time filming began for The Bachelorette, it seemed like Jason was single, so if he was dating someone, it may not have been a very serious relationship. For example in February he posted on Instagram that his mom was his Valentine and then in March, he participated in a bachelor charity auction. So all signs point to him being single going into the show. And now it would seem that he's single once again. Of course it's also possible that Jason and Becca ended up together at the end of the season and he's just not allowed to post anything about it on social media. But he isn't the only viable candidate left at this point.
Since Jason wasn't announced as part of the cast for the upcoming season of Bachelor in Paradise, it's safe to assume that this means he makes it far on Becca's season, if not all the way to the end. And if that's the case, he likely hasn't had time to start dating anyone else or move on from the relationship.
He's been one of the more focused contestants, set on making a connection with Becca and making his budding relationship with her work rather than focusing on the other guys or any growing feuds. And, like I said, Jason was the light in an otherwise disappointing week for Becca on Monday's episode, so that adds to his appeal as possible husband material. But if he isn't engaged to Becca right now since filming is over, then he's likely riding solo for the time being.