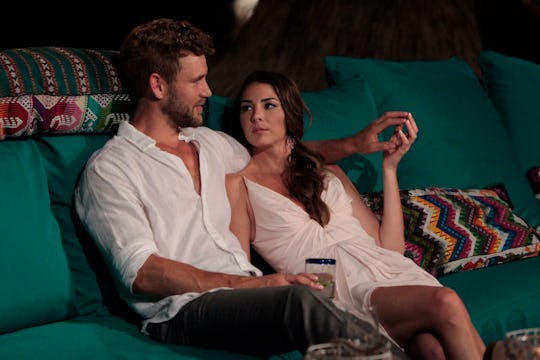 Rick Rowell/ABC
Is Jen Saviano Dating After 'Bachelor In Paradise'? Her Breakup Is Still Fresh
After the finale of Bachelor in Paradise Season 3, some couples are undoubtedly happier than others. While some ended the season engaged, ready to embark on a new life with a person they just met, others called it quits before getting down on one knee oceanside and on camera. Jen Saviano and Nick Viall were one such couple. Despite a pretty immediate connection, Nick's past breakups (and future opportunities, as it turned out) were a roadblock that they just couldn't get over in their burgeoning relationship. Both Jen and Nick end the show single again, but is Jen dating anyone after Bachelor in Paradise?
There doesn't seem to be anyone special in Jen's life at the moment, or at least not anyone she's dating publicly. That makes sense; BiP has barely finished airing, so she'd likely want to keep things a little private until then. Even though the announcement of Nick becoming the new Bachelor revealed the end of their relationship before BiP could, it would still be pretty spoilery for Jen to be open about a new relationship before the last one publicly ended. Her social media doesn't hint at any new people in her life, so she could just be enjoying being single after everything that happened.
Plus, it looks like Nick and Jen's breakup was a lot more recent than it seemed.
In an interview with Detroit radio show The Ticket, Lauren Himle had a lot to say about Jen and Nick's relationship. Though it may not be a first person perspective on whatever happened between them, Lauren is a friend of Jen's as well as a former contestant herself. Her time in paradise overlapped with Jen and Nick's, plus it looks like she got first row seats to the breakup once the cameras stopped rolling. According to her, things went down differently after the finale than it appears: though Jen and Nick broke up during the final rose ceremony, they kept seeing each other in real life. Or they did until Nick got his new gig on The Bachelor.
"I am not a big fan of him," Lauren said when the interviewer brought up Nick. "He dated my great friend Jen on Bachelor in Paradise and they did break up on the show, but it was my understanding that they were still seeing each other after the show completed." Apparently Jen and Nick were still involved after paradise, though Lauren also went on to claim that Jen was aware that Nick was "manipulating" her towards the end of their relationship – which was only a week before the time of the interview.
If their breakup really was that abrupt and potentially messy, no one would blame Jen for wanting to enjoy the single life for a little while before diving back into the dating scene.