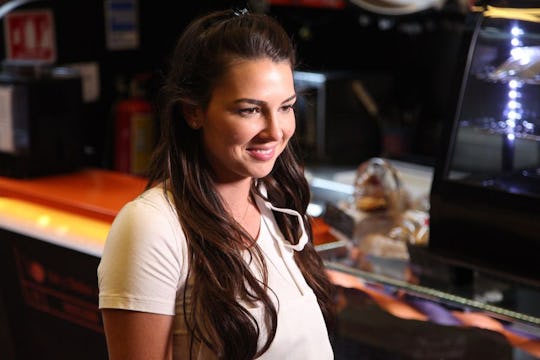 ABC/Eniac Martinez
Is Jen Saviano Single After 'Bachelor In Paradise'? She Seems To Have Made A Connection
Just when we thought Nick Viall was going to have no one to give his rose to on Bachelor in Paradise, it looks like they're going to throw another one of Ben's castoffs from Season 20 of The Bachelor into the mix. Jen Saviano will be arriving Tuesday night on Bachelor in Paradise, but it's hard to imagine that she finds love when there have been couples forming left and right. So, is Jen Saviano single after Bachelor in Paradise? It's hard to say what her relationship status is at the moment, but anything can happen when you're on the show and enveloped int he whirlwind of romance and fast couplings.
Apparently, Jen is the whole reason Nick Viall came to paradise in the first place, so when we see promos for Episode 4 of the two of them rolling around on the crab-filled beach and Nick telling the cameras that he's in love (at some point in the season), we have to assume that despite arriving late, Jen at least found romance with Nick. But does that mean Jen Saviano is in a relationship now? Anything can happen in the time from when filming ends on Bachelor in Paradise to when the show starts airing on TV.
According to Bachelor in Paradise spoilers floating around the interwebs, Jen Saviano does enter into a relationship of sorts on the show, but (spoiler alert - for the love of God, there is about to be a spoiler) it doesn't transfer into real life once filming ends. According to Reality Steve, whose spoilers and predictions are usually pretty on point, Jen Saviano and Nick Viall get romantic on Bachelor in Paradise, but it doesn't lead to an engagement and instead ends in an amicable breakup.
But is Jen Saviano single now? Her Instagram is pretty devoid of men period, much less any who would be considered romantically linked to her. It looks like she is enjoying a single life with girlfriends and lots of amazing donuts. So finding romance, but not actual lasting love, on Bachelor in Paradise seems like it was no skin off her back. And after arriving in time to be in a "relationship" for like two weeks doesn't exactly equal lasting love for most, so it's understandable if Jen and Nick Viall don't last beyond the show. Maybe they'll rekindle something later on?
It doesn't hurt to root for Nick and Jen on Bachelor in Paradise while it lasts though, because even if they are both single now, at least they ended things on a good note, and found something in paradise.