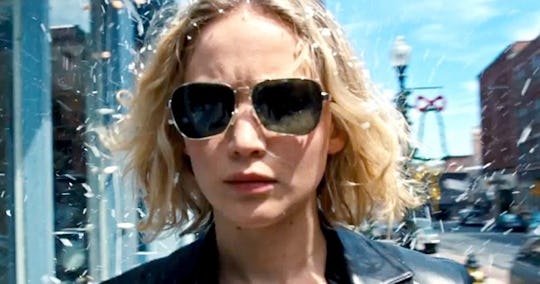 Is Jennifer Lawrence The Next Meryl Streep? This Year's Oscar Nomination Might Indicate Yes
The 2016 Oscar nominations came out this morning, and with her Best Actress in a Leading Role nomination for Joy, Jennifer Lawrence is the youngest actress to get four Oscar nominations. The last five years have been very busy and successful for the 25-year-old actress, and many are thinking she may be on her way to becoming the next Meryl Streep.
Lawrence's first Oscar nomination came in 2011 for her role in Winter's Bone. This was pre-Hunger Games, so Lawrence was relatively unknown at the time. This, of course, changed when her role as Katniss Everdeen shot her to instant stardom in 2012. At the time, Lawrence was already gaining fame for her part in the X-Men franchise, and thus she quickly became a household name.
But being a movie star doesn't always translate to Academy Awards. There are handfuls of actresses out there who have never been nominated, but whose names roll across the silver screen every summer in blockbuster comedies. Too often, actors are placed into one of two categories: "popular" films or "important" films.
But Lawrence was not stuck in the world of multi-million dollar franchises. In the same year that The Hunger Games was released, another, smaller film was released that starred the actress: Silver Linings Playbook. This movie, directed and written by David O. Russell and also starring Bradley Cooper and Robert De Niro, catapulted Lawrence into the world of Oscar-worthy films and challenging, intense roles. Of course, fans already knew she could do this, given her role in Winter's Bone. But Silver Linings Playbook reminded critics that she was a part of this category, as well as being perhaps the most popular celebrity in the country.
Lawrence received an Oscar nomination for her role in Silver Linings Playbook and went on to win the award (charmingly tripping on her way up to accept it). At only 22-years-old, she had won the most coveted award in film (perhaps even the most coveted award in the world), and had officially earned herself a spot as one of the best actresses of all time.
Since then, Lawrence hasn't stopped working. In addition to finishing up The Hunger Games series and continuing in the X-Men movies, she also starred in some of those select few, Oscar worthy movies. Her role in American Hustle earned her a nomination for Best Supporting Actress at the 2014 Oscars.
And this year, Lawrence has been nominated for Best Actress in a Leading Role for the third time, which brings her up to four nominations total, making her the youngest actress ever to receive this honor. At 25-years-old, Lawrence has accomplished what very few people accomplish in a lifetime.
Of course, Lawrence isn't quite catching up with Meryl Streep yet. With 19 nominations, Streep is in a league all of her own (the next highest number of nominations is Katherine Hepburn with 12). But Lawrence is starting early, and shows no signs of fading any time soon. It seems she may be on track to become the Streep of this generation.
And in addition to racking up the accolades, Lawrence has managed to still stay down-to-earth and relatable. She has charmed her way into America's hearts, completely independently of her Oscar nominations. Lawrence's fans would love her even if she never won another award — that just happens to be a nice plus. She's managed to successfully bridge those two categories of popular and artistic filmmaking. And we just hope she will continue to do so for many more years, and many Academy Awards shows, to come.
Images: 20th Century Fox; Lionsgate; Christopher Polk/Getty; Columbia Pictures