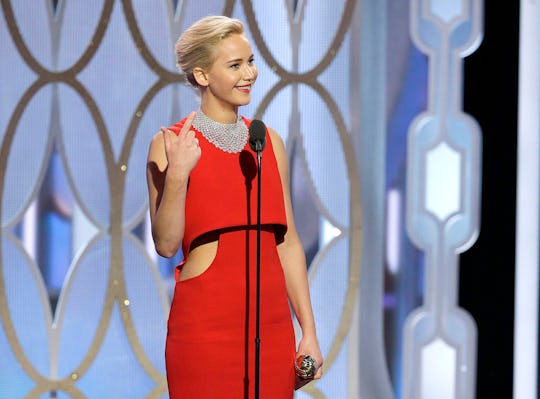 Jennifer Lawrence Nominated For An Oscar, So There's Possibly More Joy Ahead
This week started well for Jennifer Lawrence. She won a Golden Globe on Sunday, beating out a whole field of incredible women, which seemed to bode well for her Oscar chances. When the 2016 Academy Award nominations were announced Jan. 14, sure enough, Jennifer Lawrence was nominated for an Oscar for Best Actress for her performance in Joy.
Although Joy itself got mixed reviews, it was generally agreed that Lawrence's performance was typically excellent. Lawrence played Joy Mangano, the divorced mother who invented the Miracle Mop, peddled it on QVC, and built a thriving business in the face of those who doubted and even actively tried to sabotage her. Based on a true story, Joy was directed by David O. Russell, who also directed Silver Linings Playbook, for which Lawrence won the 2013 Oscar, and American Hustle, for which she received a Best Supporting Actress nomination in 2014.
It seemed that Lawrence was a shoo-in for an Oscar nod after she won the 2016 Golden Globe for Best Actress in a Motion Picture - Comedy or Musical at the beginning of the week, but then again, Joy is technically a comedy, and the Academy tends to honor performances in dramas. Salon's Nico Lang argued that Lawrence actually shouldn't be nominated for Joy, however excellent her performance was, because the film itself was so flawed. And Lawrence wasn't nominated for a SAG award for the role.
When it came time for the nominations Thursday morning, J. Law was indeed nominated for Joy, proving that the actress' work is irresistible to the Academy, even when the movie itself is, as Lang put it, a "total disaster."
Phew, glad that's settled. Now everyone can move on to other pressing questions, like which gown Dior is going to cook up of for Lawrence's Oscar look that could possibly be more stunning than her past red carpet ensembles. Ahhh, that's a good problem to have. Congrats, J. Law!
Image: Getty Images Entertainment; Giphy (2)