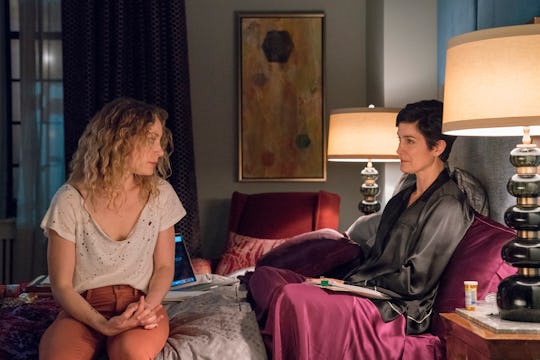 David Giesbrecht/Netflix
Jeri Hogarth's Story Arc Is The Highlight Of 'Jessica Jones' Season 2 & Here's Why
Warning: spoilers for Season 2 of Jessica Jones ahead! A lot of heartbreaking things have happened over the first two seasons of Jessica Jones, and oddly one that really tugged on my heartstrings was when Jeri Hogarth was diagnosed with ALS, a disease for which there is no known cure. She obviously wanted to track down a way to fight it, but how did things leave off by the end of Season 2? Is Jeri Hogarth cured on Jessica Jones? She was determined not to let her disease get the best of her, and she wasn't about to let anyone take advantage of her either.
The hardest part about watching Jeri struggle with ALS was watching how hard the people around her tried to use her illness to take her down. Sure, Jeri was a little obnoxious and clearly self-serving, but that's still no excuse. First, the partners at her law firm enacted a clause in her contract that stated that she must disclose any health concern that could interfere with her ability to do her job. They then used this clause to force her out of her position at the firm, which seems downright cruel. She may be difficult, but she's a damn good lawyer.
Jeri was focused on not letting these people take her down — and used Alias Investigations to enact her revenge. But at least she probably could have predicted this betrayal. The other double-cross she didn't see coming at all. Jeri took in the homeless former IGH nurse Inez for her own protection as a favor to Jessica. Inez told Jeri that when she worked at IGH she met a man who had the power to heal, and that she had seen him heal her. A few days later, Jeri started to have feelings for Inez and vice-versa (or so it seemed). It was all very sweet and romantic so obviously something terrible had to happen.
Jeri managed to track down the "healer," Shane, and got him out of jail so long as he agreed to use his powers on her. But here's the thing: it was all a scam. Inez lied to Jeri about him being a healer in order to get him out of prison, because he and Inez were together. Jeri finally realized this when she came home and found her apartment completely ransacked by the pair. Shane never had any powers at all and they used Jeri's desperation for a cure to get the better of her. Of course, trying to scam Jeri is a terrible idea.
Jeri didn't care about getting her stuff replaced because she has plenty of money and can just buy it all back. But she did care about getting her revenge. She ended up tricking Inez into killing Shane for her. I'd feel bad for Inez if I wasn't already busy cheering on Jeri so hard I freaked out my cat.
The problem now is that Jeri still very much has ALS. And since there is no way to reverse or stop the disease, it may end up being fatal for her. So Jeri will still be dealing with it probably all throughout Season 3. She may have gotten the best of her old partners at the law firm and she may have gotten her revenge against Inez, but she's still going to have to face her own mortality in the near future. It's a depressing future for her, but I am actually excited to see how her character develops in Season 3 because of it.
Check out Romper's new video series, Romper's Doula Diaries:
Watch full episodes of Romper's Doula Diaries on Facebook Watch.