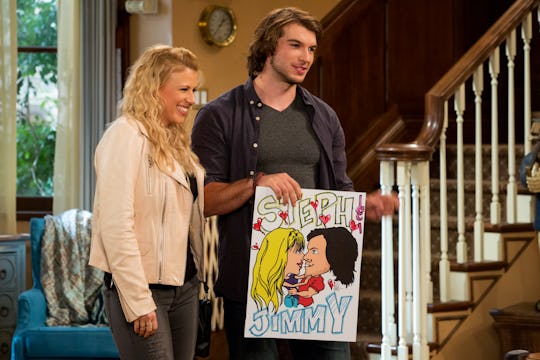 Michael Yarish/Netflix
Is Jodie Sweetin Really Singing In 'Fuller House' Season 2? She Has A Great Voice
(Warning: This post contains spoilers from Episodes 7 and 9 Of Fuller House.) I like to imagine that it all started with a short-lived band called Girl Talk, but who knows what really sparked Jodie Sweetin's singing ambitions. All I know is that she's now all grown up, and she's still a rock star. So is Jodie Sweet really singing in Fuller House Season 2? From the looks of things, she's definitely the voice behind those ear worms you've been humming to yourself since the show aired.
Sweetin's first time singing on TV was way back in Full House when she, Kimmy, and mean girl Gia formed their girl band Girl Talk. The band played one single song — Ace of Base's "The Sign" — which is a little too catchy if you ask me. She's been performing a lot this season, starting with how she and Kimmy's adorable brother met while she was just casually singing and playing her guitar in the back yard. Eventually, and inevitably, she and Kimmy got Girl Talk back together with Rock Band champ D.J. on drums, and even Marla Sokoloff reprised her role as bad girl Gia (she vapes now). They played "The Sign," of course, with Steph on vocals, and everyone wanted to know if it was actually Steph singing. And it seems like she really is.
The following episode, Steph wrote and performed an original song called "The Boy Next Door," which you will probably never be able to get out of your head once you hear it. And if you don't ever want to get it out of your head, you can simply buy it on iTunes where it costs $1.29 and is credited to Jodie Sweetin. I think we can definitely take that to mean Sweetin is actually the voice behind all of those tunes that they played at a minimum 30 times throughout the few episodes. In fact, the song went viral when Kimmy set it to a video of baby Tommy and their dog, Cosmo, playing around. It was a smart move. I mean, what is cuter than a baby and a dog, after all?
While Steph was all set to sing on her dad's morning show, now called Wake Up USA, she and the rest of the gang got stuck in a fake jail cell from a neighboring set (it happens) and she missed her big break. Too bad for Stephanie, but we probably didn't need another performance of this song.
Sweetin is not a professional singer, but it's not even the first time she's performed songs on Fuller House. In the first season she performed "Forever" with Uncle Jesse. Maybe since she's so talented, she should go pro.